Off the main road at Km 88 one wanders on a narrow dirt road to discover Xecue winery. It is spring and there are forests of yellow mustard flowers mixed with coastal sage scrub and chaparral. The wind blows forlorn, whispering of times past when the native people lived here thousands of years ago. They were hunter gatherers and knew the way of survival in the Guadalupe Valley. No grapes were grown. Water and springs were plentiful, every plant and cactus had a purpose and wildlife abounded. Here you can hear their voices in the silence of the breeze.
A hummingbird hovers curious about the new visitor, dashing off to find a flower amongst the blooming white sage, a sacred ceremonial plant. Jose Luis steps out the front door in a quiet welcome. I take several stairs up to the lovely glass octagon shaped building, reminiscent of a Navajo Hogan. Jose Luis ushers me inside and I am feeling as if I have just entered into a romantic film location set in wine country. Little do I know, that what is about to unfold would absolutely qualify for a fine script. It begins with the name Xecue, pronounced /chek-WAY/, meaning love in the disappearing language of the Kiliwa people, pronounced keeleewha. It is not yet the weekend, so we find a seat all to ourselves, having a nearly 360 degree view of the vast landscape. Jose Luis points out that we are surrounded by his cactus garden of over 80 species. Wine is obviously Jose Luis first passion. Never the less finding baby cactus from all over the American Continent has to be a close second.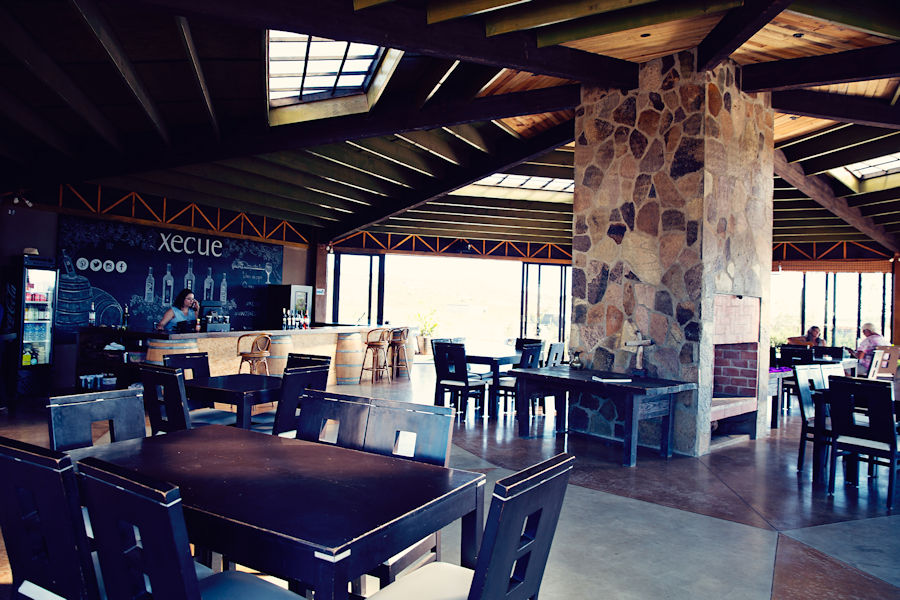 Jose Luis tends the vineyard and his wife Alberta is the winemaker. Together they have quite a resume that is the foundation of their success, both as a couple and for their award-winning wines. They share a love of growing and creating the best wines, which have been noticed worldwide. They have a 5 star rating given by Trip Advisor. Jose Luis begins to line up a fascinating array of bottles. Each label is significant, recording the name and the history of the little know Kiliwa. Jose Luis has yet another passion and that is to make sure the Kiliwa people are known and remembered that this was once their home. Now there are only about 25 to 30 people of Kiliwa descent that still speak the ancient tongue. This warm hearted vintner begins to pour the tasting. Kumeey or quail is a symbol for man and Kekoo is fish, a symbol for woman. Kumeey is 50% Cabernet Sauvignon, 25% Merlot and 25% Cab Frac. It fills the nose with rich aromas, complex taste of dark plum and a note of spices, followed by a fresh round finish that lingers. The woman of this pour, Kekoo, is 100% Grenache and like beautiful women everywhere, it surprises at first glance, a gem like clarity of flaming colors of red/orange. Surprised again by the first taste with a touch of sparkle. The effervescence, I learn, is Alberta's touch adding carbonation. Bold and fresh it tickles the pallet with the full taste of the delicious Grenache grape. Her label reads, "Wines with the soul of the Native."
While we are tasting, Alberta comes in. This is a chance encounter as Alberta travels extensively. She is widely known in Mexico for her ability to turn grapes into awarding winning wine. There are discs of gold insignias on the bottles for first place tasting events in Ensenada. A few years ago, the Xecue Reserve received a silver medal in Spain. Jose Luis hurries off to find several magazines in which they have been featured. A glossy wedding magazine shows the beauty of the room's setting, the couple cuts the cake and the photo is crowned with the surrounding view of vineyard and mountains. A second magazine has a beautiful cover shot of the Jose Luis and Alberta. Dressed in white jackets and jaunty white hats, they grin happily as they hold grape clusters in their hands. This photo spread is reminiscent of the old-world vineyards of France and Spain. Alberta rushes off to cross into the States and Jose Luis returns to his story. He pours the Relato. The label carries the story of romance of husband and wife and their shared love of life in creating the wines of today. Relato received a gold in 2015. A blend of Cab, Merlot, Tempranillo and Nebbiolo, it shines like a flashing garnet with a hint of lavender at the edges. It is leggy, presenting with a note of wood and aromatic fruit. The finish is round and abundant. While we taste he shares how much he loves to walk the vineyard. It is a quiet time of deep thinking. He admits, "It is like the grapes are my children. I hope they all find good homes."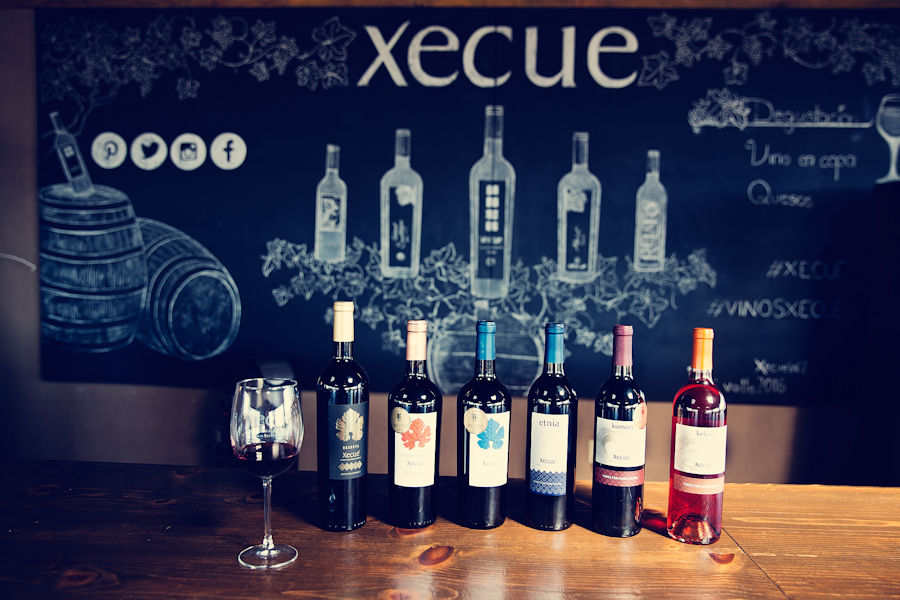 Jose Luis has a deep knowing of this land and honors the natives. He shares a little about the past, "Alberta and I started out with zero. Then we added two stainless steel fermentation tanks." It has been one steady step at a time since. Soon the adobe restaurant will be open. The lovely wine tasting building is complete and its location catches the Pacific breeze even in the hottest summer months. "We slide open all the doors and the air conditioning is free." In the winter all the doors are closed and two fireplaces warm the room. Visions of holidays arise, sitting by the fire, wrapped in a warm serape, sipping an excellent award winning red. Well, how can this be beat? Wine tasting brings you to this valley and when you leave, you will take with you more than a bottle of wine, you will have surely refreshed your soul.
Article by Martina
Photography by Cintia Soto