With easy access off of the Ruta del Vino, Garza affords the perfect winetasting experience. The lovely settlement is found easily on a narrow, but well-maintained dirt road. It is requested to drive very slowly as not to raise dust on the grape clusters. The vines are covered in netting, for in July the birds know the exact moment of ripe perfection and swoop down to enjoy the bounty. The home and tasting room of the Garza family is surrounded by lush trees, flowers and the vineyard encircles the entire hill. Great white boulders were left in place, creating a striking effect on the hillside. It is hard to believe that in 1997 when the family purchased the property from the Morgor dynasty there was only barren chaparral.
From the upper parking area, the first thing that you notice is the immaculate landscaping. Natural rock, olive trees, and bougainvillea create an impressive invitation. It is a delight to take the long stone and concrete walk through zen like open areas with antique objects from the farming days. A massive granite boulder becomes a shrine for the Guadalupe, others are artfully arranged by nature and left in place from eons ago. There is a gentle climb from there to the tasting area with convenient access ramps as part of the landscaping.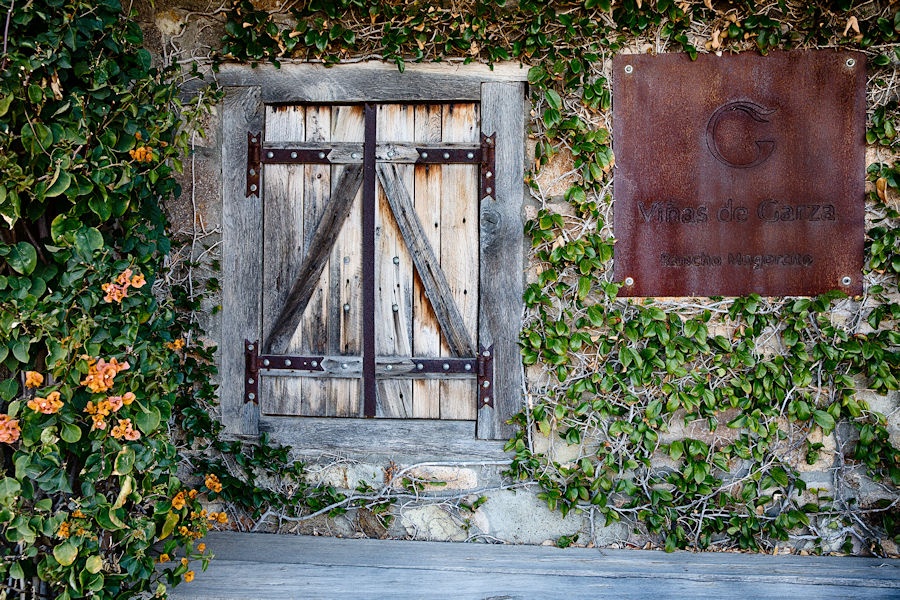 A thoughtful hostess greets me and offers the 3 different packages for tasting. A ticket is given and from there a shaded patio of rough honed wood opens out with spacious seating, affording a wonderful view. Huge mounds of coastal clouds are caught by the foothills, not able to spill into the heat of the valley. Ana Garza meets me graciously and is an animated storyteller. She begins by sharing the early years when she and husband, Amado, began to dream of a getaway retirement home on the hilltop. It is very obvious that she loves how their dream has been evolving. The land first belonged to Mogor, one of the oldest families in the valley. The Garza label pays tribute to this with its Rancho Mogorcito, Viñas de Garza. Ana presents the first tasting, a Sauvignon Blanc and Chardonnay blend that has not passed through the barrel. What a delightful surprise from the first sip. Fresh and bursting with flavor of mandarin, green apple and pineapple, yet nice and dry.
A hummingbird zooms in for a sip from a bright red flower and Ana pours the Chardonnay with ten months in French new oak. This is perfect for this summer day, golden in color, crispy, a balance of acid with fruit and a touch of toast. Ana, smiles and says that she and her husband like the saying that wine is art that you can drink. "We are a family operation here. We see ourselves leaving a legacy for our children and grandchildren and beyond. Wine growing is very young in the Guadalupe Valley. There are only four wineries that can claim being second generation. We ourselves are just first generation of wine makers." With the next pouring of a blend of Grenache and Tempranillo Ana continues, "We are making wine for the Mexican people. This blend is made to introduce red wine to the those who are just beginning to understand what we do here." And it is true, this blend is very friendly and very drinkable for a palate that is not yet educated in more complex tasting, but fun enough for lunches and picnics to please most anyone.
Ana pours the Especial Edition blend of Grenache Syrah and Mourvédre. "We are never in a hurry to release. You don't begin to make wine to make money. It is the passion for what we are doing. Amado learned to produce wine by being in the vineyard and paying attention to all the infinite details which are a must in making good wine. He plants in lots. Different parts of the terracing have different microclimates. Each area is best for a certain varietal. The vines wake up at certain times. Tempranillo matures sooner." Anna then mimics how the vines would talk, "Like wow! Yes! Let's get started! But Cabernet is lazy, and say, "Ah, go on ahead, I'm going to sleep a little longer." She stops for a moment and looks out at the expanse of vines and softly says, "I so love this, I have watched these vines grow." This Especial Edition is fruity, with berry and notes of wood. "I love to see how people react when they first taste our wine."
Next is Ana's favorite and she suggests I'll know what she means. It is a blend of Tempranillo, Caignan and Grenache. Held in French oak for 14 months and another 14 months in the bottle, I took my first taste of the dark velvety liquid that was bold, whole and round and exclaimed, "I know what you mean!" Ana grins and says, "We live in a partnership with nature. It was one thing we were looking for when we retired, even though we had no intention to start a vineyard. We love the lifestyle and the night skies full of stars and the moon rising. But we were seduced by the passion of the winemakers. Since we are a family run project, we open only three days a week. The rest of the time we are tending to the business of production in all its phases. We are not a restaurant, so by government regulations we are only selling wine and therefore, children are not permitted.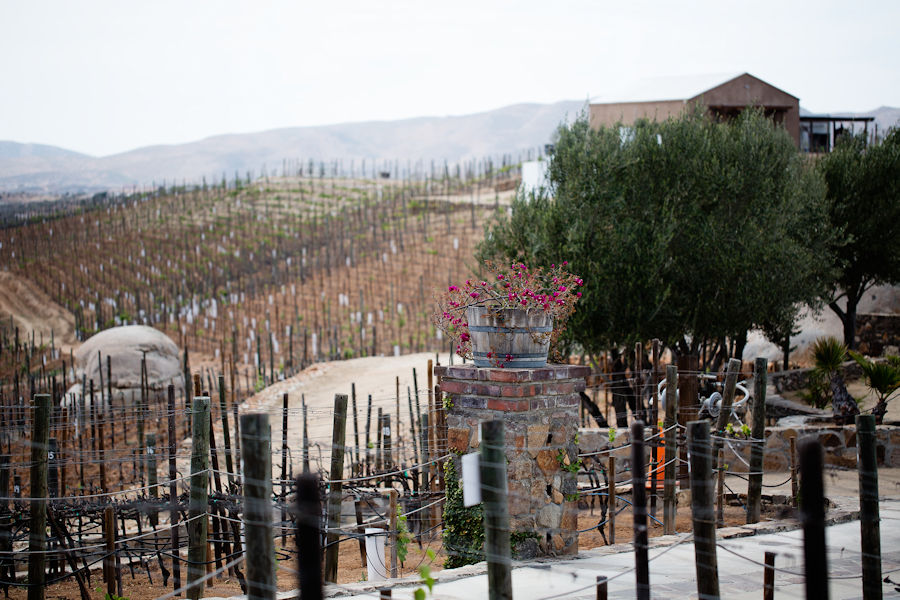 The last tasting was a blend of four grapes. It is named after Amado who is the third generation of Amado men. His name means loved in Spanish. Ana laughs as she describes the Amado Forth label, "This wine says, 'I'm HERE!' It is a macho man's wine, bold, intense and strong in structure, yet women will love its silky finish." Because we are not in a hurry, we are holding our reserves for 30 months in the barrel. Amado says aged red wine is like a magnificent black stallion; captured. When you finally open the bottle, it bursts forth, with wild freedom, but with time it lengthens its stride, smoothing out with long powerful elegance."
Ana gets up to greet more guests arriving; Amado is seated with another group. They have built a dream on this hilltop. Sometimes visitors from the states have been heard saying on the last day of their vacation, "Well, back to real life." Yet, here in the Guadalupe Valley the Garza family is living real life, blending intelligence, passion and deep connection to the earth and its cycles, just for the love of it.
Article by Martina
Photography by Cintia Soto