Having turned off at the only stop light in San Antonio de Las Minas, the drive to Tres Valles is an easy one with a couple of things to watch out for. A long-paved road climbs the hills through the pueblo and residences. The signage is good, but requires a little study at each intersection. Finally, the arrow points left onto a narrow dirt road. Caution during rainy days is advised. It is unseasonably warm and dry at the end of January and the grape vines have lost their last leaf. Watch for a sign to turn right onto another narrow road. Pass the impressive buildings of Vinisterra, but proceed further up the hill. Tres Valles entrance welcomes you with old barrels lining the drive. A soft desert breeze blows from the east, dancing the trees. Fresh water sounds join in from a shaded fountain. Already, a sense of Baja's magical touch is experienced. Climbing the stairs to the first level be prepared for a wonderful surprise as a giant lizard made from heavy metals, wood and stone welcomes you deeper into the experience of wine, art and the first people who lived here.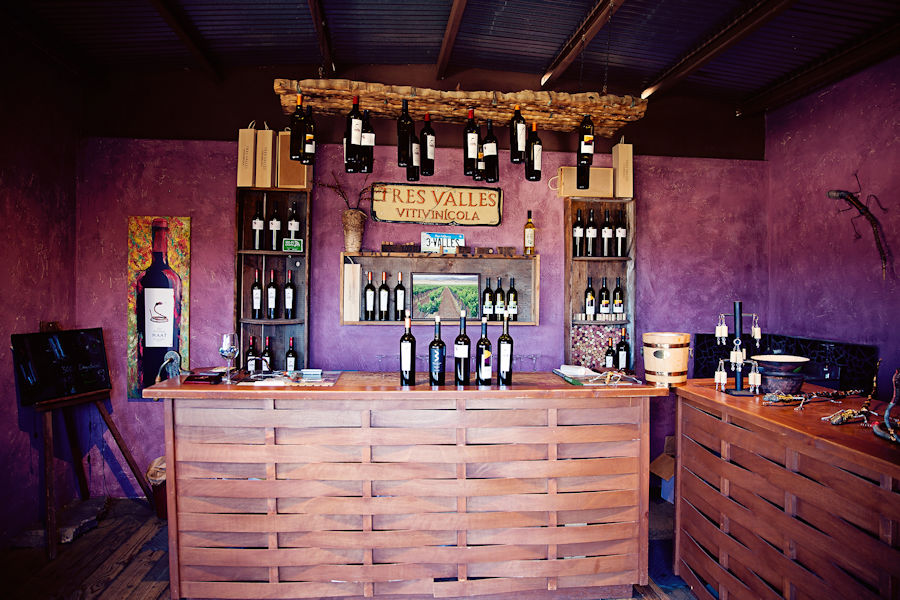 Tres Valles has utilized the hillside land in a very unique way. One of the tasting areas is shared with the great lizard, while the wine tasting room is above, in what looks like a tree house. Under this structure are picnic tables and more outdoor tasting opportunities in the shade in which a towering spider stands on long metal legs. Tres Valles was started by a group of friends who loved wine and wanted to produce their own personal cellar. It is a common story of expansion as wanting to try more varietals combined with the passion and love turns into an unintended business. The grapes that are used in the production come from three important valley regions in northern Baja, thus the name Tres Valles. The group set out to "make honest wines with respect for what nature brings" that includes all the elements of sun, water, soil and sea breeze. They then incorporated the use of the Kiliwa language. The Kiliwa group has nearly disappeared and only a few elders remember the language. Alfonso Brambula, artist, adds a whimsical yet powerful touch with the sculptures using natural elements of wood and stone, wrapped in wire of different gauges. The wine tasting experience is more than just the like or dislike of the palate. Visiting a winery touches all the senses and gives an opportunity to meet the passionate winemakers.
Alejandro Adalid is one of the passionate ones and an excellent guide through the Tres Valle wines. Alejandro has completed his Oenology degree in a Baja University and states, "The school was good in order to get the degree, but I learned much more by being here." He pours Jalá a Kiliwa word for the "creator" and is a 2017 blend of Chardonnay and Chenin blanc. It did not pass through oak, giving it the fresh lightness and touch of green apple. Nicely balanced it can be enjoyed anytime. Alejandro talks with visitors from the US about the Baja wines versus the Napa Valley wines and the differences that soil and climate can make. Baja grapes grown in a drier climate, causing the wine to be more "aggressive" in aroma and flavor. One of the most popular grapes, planted worldwide is the Cabernet. Not popular in Napa, it is a favorite here and does very well in Baja production as a flavorful and assertive fruit to blend.
Alejandro pours 2011 Jalá blend of Grenache and Cabernet Sauvignon with 18 months in French and American oak. Combining these two grapes gives the red fruit and gentle acidic quality of the Grenache to the less fruity, pepper notes and more tannin of the Cabernet. This alone shows how the winemaker is also an artist. They must take all the elements of climate, soil and grape characteristics to create a unique wine. Alejandro tells a wonderful story about patience, which is the main ingredient in being a good winemaker. Years ago, there were no more than 10 wineries in the valley. One of the grape growers was approached by Tres Valles to buy his grapes and saw that he was tearing out very old grape vines to plant tomatoes. There was no market for his grapes, he said. He was stopped from tearing them all out, thankfully, by Tres Valles timely intervention. Now these remaining vines are fifty years old. Old vines are highly valued and today can bring a price of $2,000 a ton. The poor man had torn out approximately $130,000 in annual sales. As Alejandro pours a 2015 "Maat" meaning "soil" it is with this 50-year-old Grenache grape. It has 12 months in French and American oak. It is a rich experience of dark plum, ripe berry and a delightful note of Vanilla from the barrel.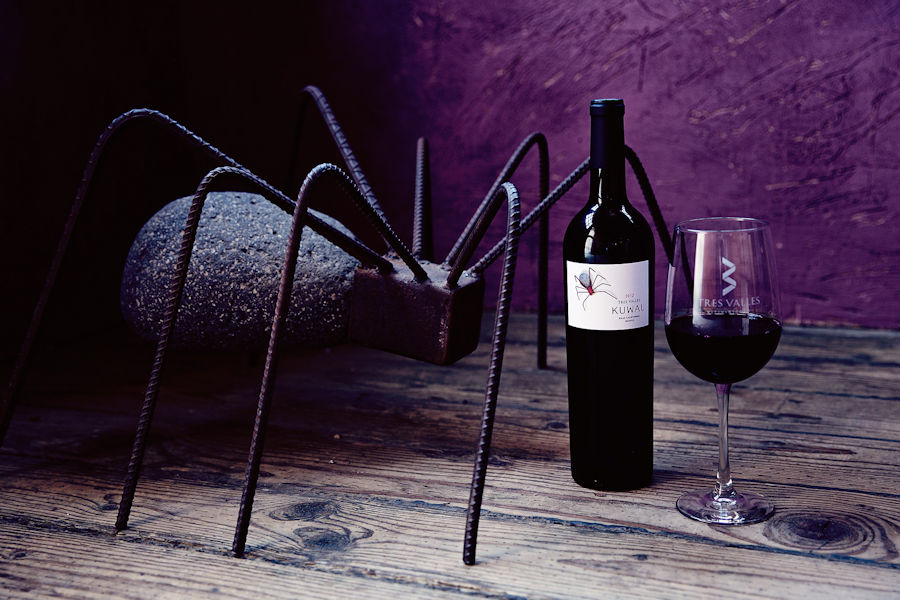 Do you know why all the vines are trimmed into the same T shape? Alejandro fills in the answer as he pours a very interesting 2014 Sangiovese. Centuries of perfecting the best grapes, it was found that if you didn't let the vine grow too tall it kept all the water and nutrients from the soil feeding only the lower grapes which then received 100% of what was available to each plant. Sangiovese is an Italian grape. It is unique here and produces a wine with a deep dark core and light lavender fringe. It has a slight truffle note from good aging, with a nice balance and long finish good for pairing. It is a wine you would not drink by yourself, you would want a friend along to share the Baja Experience. To add a surprising and magical finish, a nearly full Blue Moon hangs over the mountains just before sunset. It can't get any better than this.
Article by Martina
Photography by Cintia Soto