Visiting Solar Fortún is a visit into the interior of a pristine valley where the largest grove of old California oaks still remain. From Francisco Zarco heading west, watch for the blue sign posted on the right amongst the cluster of small store fronts. The road turns quickly into dirt and uneven surface through small dwellings, barnyard smells and the sounds of chickens. At the Y in the road, a Solar Fortún sign directs to the left. Leaving the dusty little village behind, you are about to enter into a different world. At this point the road is well maintained, even during the rain. Here the drive becomes very beautiful as it leads you deeper into the boulder strewn hills and through lush vines heavy with fruit. Just about the time when you might begin to wonder if you are ever going to get there, the cluster of new buildings in the shade of old oaks come into view. There is a special feeling out here as this vineyard is the last one deep in this lush canyon.
A gentle Pacific breeze refreshes the unique microclimate, keeping it cooler during the summer heat. Solar Fortún maintains a small footprint. A tiny tasting room is set up so that most visitors will be served out on the expanse of wooded patio with the massive oak branches for a ceiling. An open grassy area covered with a canopy of shade cloth protects an informal play area. The efficient kitchen in a separate building which creates special treats for perfect pairing with the wine tasting. Hector, the wine server, introduces himself, saying that Santiago Lopez, the owner and winemaker, will be along shortly. We are in no hurry, how could we be with such a beautiful setting? Hector brings a menu of pairing suggestions and our first tasting, a young red, 2017 Baya Baya, meaning two grapes, a blend of Cabernet Sauvignon and Petit Verdot held briefly in stainless steel. We were quite surprised with the lively bouquet and full flavor without benefit of time in the barrel. This is a signature of Mexico's wine industry that is in the process of educating their people to the world of wine. This definitely is a great starter and will please even seasoned wine lovers.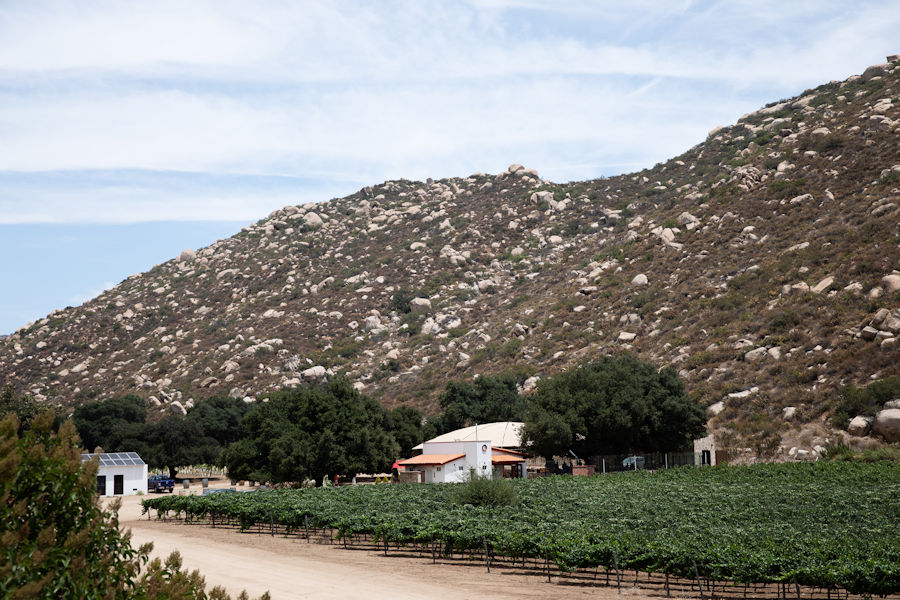 Next comes a 2017 100% Mourvédre with 8 months in French oak. This is a signature of Santiago's wine. He prefers less oak influence and an elegant fruit-forward wine. The Mourvédre grape is fairly new to the region and is already proving to be a favorite, carving out its own place among the well-known varietals presently found in the Guadalupe Valley. From the first experience of this wine, it is definitely elegant and full-bodied. It fills the mouth with the pleasure of dark fruit and a hint of flowers. Lovely.
As sunlight plays across the table in a dance with the shadowy leaf patterns, a song, somewhat incongruent with the setting, begins with "I can't get no satisfaction, I can't get no satisfaction, I try and I try and I try…" Hector smiles and says, he makes up the play list and likes so very much the music of that time period. He then suggests that I pair the next wine with a smoked marlin taco. As I wait he describes the 2015 Confabulario, a blend of 50% Mourvédre and 50% Petit Verdot with 12 months in American oak. As he pours, the gourmet taco is served. Hector suggests to try the 6 chili picante that looks like it could easily catch fire, but he assures me that it won't. Rather new to pairing, which has become so popular in Mexico's wine region in the last ten years, I find a new world opens up and I will want to visit again and again. The combination of the balance acidity of the luscious wine and the perfect marlin with cream swirls and liberal dots of dark chili was beyond words. Just as I am finishing and licking my fingers of the delightfully messy experience, Santiago arrives.
It is starting to be busy as Santiago sits down to fill in the story of how this vineyard came to be. His father Dr. Jose Alberto Lopez, a physicist and astronomer and "a lover of the heart of good wines," started making his own wine 30 years ago. However it was not until 2007 that he decided to create his dream project planting his first grape vines for Vinícola Solar Fortún. At that time Santiago was on an engineering career path, but saw the future of his father's dream, changing directions to enter the University of California-Davis and graduating with a degree in Oenology. "We have a unique micro climate at this end of the valley. We have the sea breeze that moves through and we average 10% cooler temperatures than the rest of the Guadalupe Valley. Our water source runs through deep sandy soil starting in Tecate and flows to us, where we are the first to tap into it. This makes for the purest water for our quality grapes which are all certified from Napa. This makes for naturally good wine." I mentioned that perhaps he has something to do with it, due to his own skill as an Oenologist. He humbly replied, "Actually, I just allow the grape to express itself and help it to become that full expression."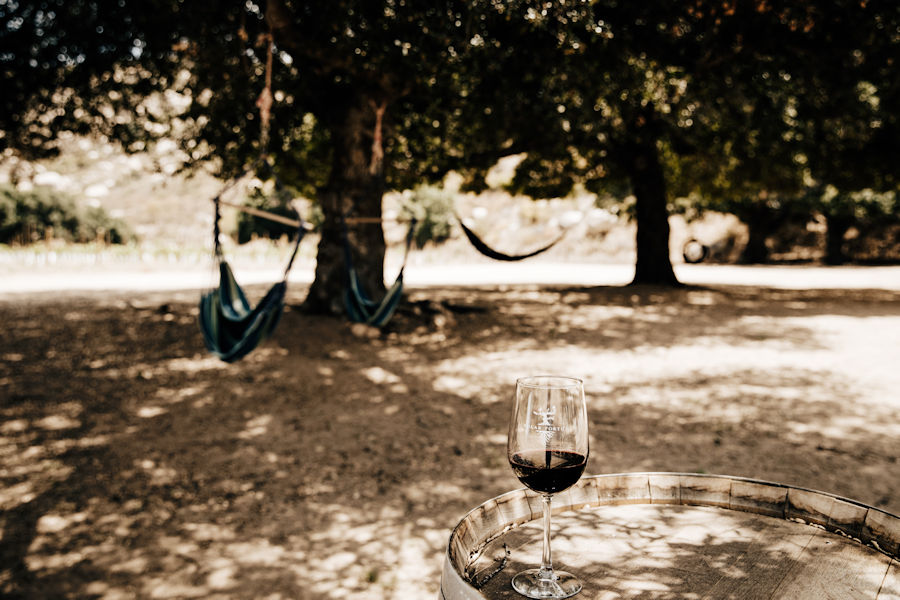 Santiago leaps up to welcome guests as the afternoon gets quite busy on a weekend. He scoops up his one year old son, introducing him to the guests as the "owner of the winery." Hector comes back with the last tasting, as father and son return. The name of this wine is an insight to the family's sense of humor, named after a blood type, O Positivo, it expresses the hard work of wine production as a great deal of "blood, sweat and tears." This is considered Solar Fortún's "Flag Ship" and is a 2017 blend of Cabernet Sauvignon and Syrah. It has many gold metals and is featured on the wine list of the famous French Quarter restaurant. Deep purple in color, again the luscious fruit forward with black cherry, plum, a little vanilla and a hint of black pepper. It is everything that was promised. The personal signature of Santiago, prefers to harvest early, keep the alcohol levels down so the fruit is not overwhelmed and all the wines have the fresh and elegant qualities. Even though Solar Fortún is a fairly new winery, opening in 2012, it has been discovered, not by a marketing strategy, but by word of mouth; the best kind.
If you are finding that you just "can't get no satisfaction," the long drive out to Solar Fortún will most definitely take care of the problem by filling the need for a fabulous afternoon of natural beauty, delicious food and signature wine. Oh, and let Santiago know you are a Baja Bound traveler for your complimentary glass of wine.
Interested in trying Solar Fortun's wines in the U.S.? Visit Solar Fortun's online wine room at Patrick Neri Selections to buy online now!
Article by Martina
Photography by Cintia Soto