At the entrance of Monte Xanic stands a grand gate, quite an unusual feature in the wine country. The massive structure will slide open after the guard asks you about your reservation. Passing through the portal, the vineyards spread out on both sides of the road for as far as you can see. While it is still spring, there is an early summer heat developing, the vines grow at an accelerated rate. On the left nearing the complex is a lovely manmade lake sparkling in the sunshine. Signs will direct you up the steep incline for tasting and easy disability access.
An open covered patio allows people to sit in the shade on hot summer days and reap the advantage of the Pacific breeze. Entering the tasting room, you will be welcomed by a number of well-versed servers to present the Monte Xanic wine. The interesting name 'Xanic' comes from the indigenous Cora people, from Nayarit, Mexico, and means a "flower blooming after the first rain." The X is pronounced as a "sh." One thing to keep in mind about visiting Monte Xanic is that it has a few suggestions to make your visit more enjoyable. It is suggested to visit their website for more guidance. And while there, take an interactive online tour. It is important to make a reservation no matter what day you plan on coming. While the vineyard is open to visitors to explore and enjoy, reservation for tasting and tours Monday through Sunday are required. Monte Xanic creates a good experience by limiting group tours to a maximum of twenty people and in this way, people receive more individual attention.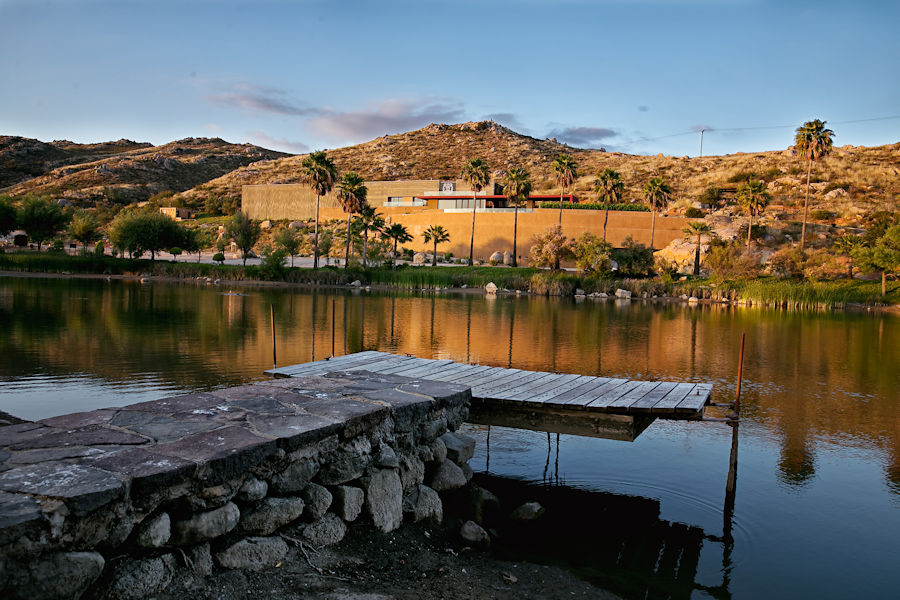 Special reservations can be made for wine tasting at the edge of the shimmer lake for Friday thru Sunday. A wooden dock, swaying trees, covered patio and even canoes lend to a serene feeling and a more intimate experience. It is easy to picture a little romance or an outdoor wedding here. But for all of its beauty, the lake is a very important water system for the vineyard. This was well planned by the five friends, Eric, Hans, Manuel, Richard and Tomas, who came together to pioneer their first wine making adventure. The most critical detail to attend to in the Guadalupe Valley is water. It is even more critical today than when they began the project in the 80s. The lake is fed by five natural water sources and also collects rain water, which is then dispensed through a drip system out into the vineyard. Their vision includes respect for the greatest winemaking traditions and cutting-edge technology. The first wines, Chenin Colombard and Cabernet Sauvignon, were produced in 1988. These first vines now have the maturity to produce intensely flavorful wines. Monte Xanic's quality can be seen in the more than 260 awards their wines have won in international competitions.
Rosalina Rodriguez, a student of gastronomy, is interning today and she begins the tasting with a 100% 2017 Sauvignon Blanc. It is produced with another of Monte Xanic old vines, giving the wonderful concentration of flavors directly from the grape as it does not pass through the barrel. It is lovely with guava and lemon grass notes making it a delicious summer wine. Rosalina is happy to be learning something every day, as this she can pass on to the visitors. "Wine tasting is not just pouring wine into a glass. It is very hard work that begins in the vineyards and the picking of grape clusters by hand, so as not to bruise the fruit. It is a full year's process and special attention is given to it 365 days, so this wine today can be poured into your glass." Next comes the 100% 2017 Grenache that also does not pass through the barrel. Rosalina said that people will have memories called up by the wine, like chilled strawberries from the store or warm raspberries picked from grandmother's garden one summer. Paying attention to familiar fragrances each day will teach the palette how to distinguish the flavors in the mouth. Yes, you did detect a hint of leather in a premium red wine. Surprisingly, you are able to detect a spice like anise or a note of eucalyptus. Wine tasting becomes an intriguing challenge, enhancing the experience tenfold.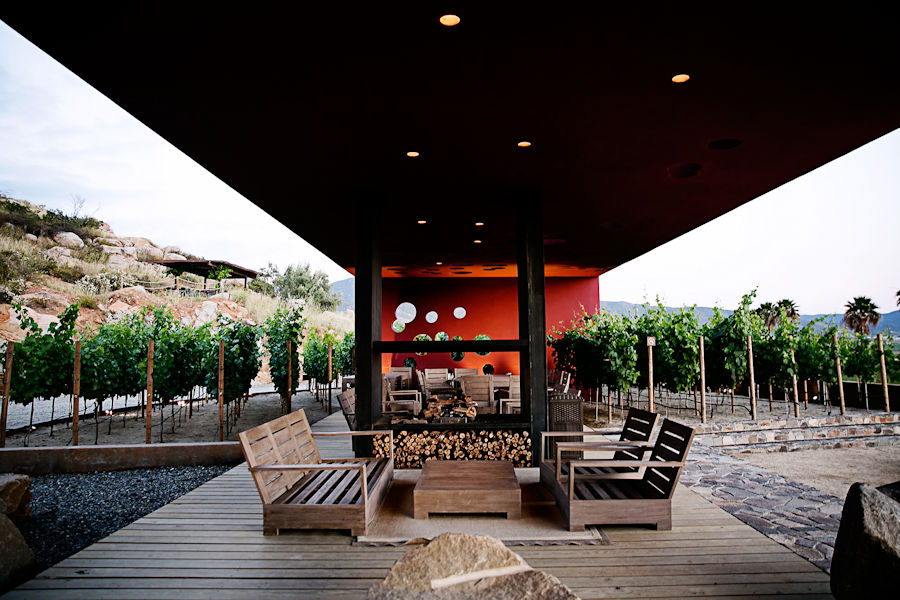 Next up is a 2017 old vine Chenin Colombard. It stays in the stainless tanks until bottled and is a wonderful fruit offering of pineapple, peach and a touch of honey. The 2016 100% Merlot with 12 months in French oak is silky with blackberry and raisin notes. It is not aggressive and offers a warm experience. On to a young 2016 red blend that is quite surprising consisting of 65% Cab and 35% Merlot. It is nicely balanced and you will want to linger on this one. Rosalina laughs and says, "We have French people visit us and they always say, 'Oh my God, you have really good wine!'" But it is the limited production of the 2015 100% Malbec with 12 months in French oak that really shines and lets you know why Monte Xanic wins the awards. The deep ruby color is lovely and the bouquet is dark and smoky. The ripe fruit offers long tannins and has a splendid persistent finish.
After the tasting you may keep your signature wine glass and take the tour deep into the structure. The production room is the epitome of high technology with rows and rows of stainless steel giants. Going deeper into a cavernous room will be awe inspiring as it holds 3,000 wine barrels at rest. It is suggested that young children and those physically challenged take the virtual tour online. It must be said that if you stop for a moment and consider that each one of the 3,000 barrels must be attended to on a regular basis, it brings home the patience that wine producers have. The enologist must taste each of the barrels progress as it is the only way to ascertain the quality of the wine as it ages. Other staff members must top off each barrel as evaporation takes place through the oak barrel. This tour is meant to broaden the education, which then translates into deeper appreciation about how much time and attention it takes to bring the wine to the table.
Interested in trying Monte Xanic's wines in the U.S.? Visit Monte Xanic's online wine room at Patrick Neri Selections to buy online now!
Article by Martina
Photography by Cintia Soto