Once there was a long dirt road, but now it has been paved, making the drive out to L.A. Cetto a smooth ride, even though it does reduce the adventure of getting there. LA Cetto is one of the oldest wineries in the Guadalupe Valley. Today they are the largest producers of Baja California wines. This is not to say that many people were not making wine under the old oak trees for personal use, but this is where the wine industry began. Today the vineyard spreads out across the valley and the grounds have many old growth trees, giving a welcomed shade in the summer and a haven for birds in the winter.
In the past, the Kumiai Indians called this valley home; a small settlement still remains nearby. The padres came next, building their missions and planting grape vines for their sacraments. It was still a quiet and open valley when Luis Angelo Cetto (chet-toe) arrived as an immigrant from Italy in 1924. Angelo had learned the art of making wine in the old country and it was his vision to plant grapes in Baja California. However, he was not fully prepared for the different climate and the very poor grape quality that he found at the time.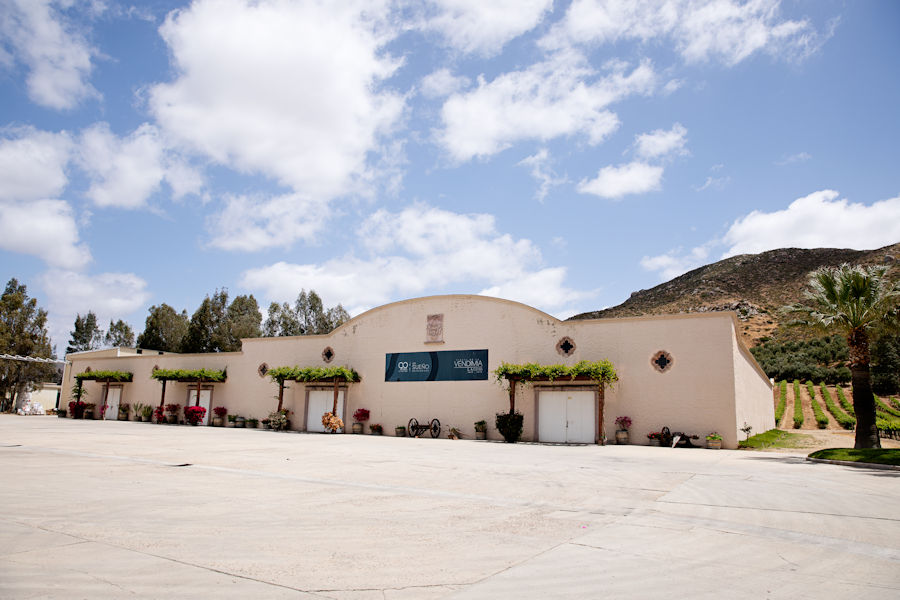 It was a steep learning curve and Angelo had to confront many obstacles. In 1930 the first wines he released were fortified as sherry and port style from the lesser quality of the grape. As an unexpected twist of fate, prohibition had just been declared in America and folks would travel from the "dry" country to lively Baja California, where the alcohol flowed freely. From Tijuana to Ensenada the Hollywood stars came to party. This was a glamorous period in history, the kind of action which movies are made. Angelo had a market coming to him. As the years past, production increased and the quality became very good under Angelo's skillful direction.
In 1963 Don Luis Angelo retired and his son, Augustin Cetto, took the winery into a whole new phase. He modernized, brought in new equipment in order to upgrade production. He was very interested in expanding and learning the best locations for certain grape varietals in Baja's abundant microclimates. In 1975 the first L.A. Cetto label was released and Augustin named the winery in honor of his father. L.A. Cetto swiftly became the leader in Mexican wines. It is said that Alberto Cetto, son of Augustin, took his first baby steps in the valley soil and grew up in the vibrant vineyard activates. His first tiny steps resulted in his becoming the 3rd generation of Cetto winemakers. He had some big shoes to fill as he picked up the mantle of bringing his family legacy into the 21st century. Through his direction the L.A. Cetto wines are now found in 32 countries around the world.
Today the rolling hills are a carpet of green after a few welcomed rains in January. The vines are barren and the stakes rise up out of the soil creating vast acres of land looking like blankets of porcupine quills. There are very few people mid-week and for a more intimate experience it is wise to avoid the weekends as the heavy bus tour traffic can change the ambiance. Entering the large open tasting room with its rustic woods, I marvel at the floor-to-ceiling shelves holding hundreds of bottles of L.A. Cetto wines- clearly labeled for purchase. The company has been able to maintain a fair price range on these wines. At the main register you can select one of three types of tastings. I suggest to pay a nominal fee of 100 pesos for Reserve wines in order to experience tasting the finery quality of their award winners. The Premium tasting is only 250 peso and does require a reservation for a one hour tasting and the one hour tour. Calling ahead, be sure to ask for an English speaking guide and they will be happy to provide one. Daniel greets me and we will venture through the Reserve wines of 2 whites and 2 reds. Daniel first pours a 2017 Don Luis line of 100% Viognier. Viognier is a French white grape with 6 weeks in stainless fermentation. It presents with green apple, kiwi, and a touch of jasmine notes. Is a great alternative to a chardonnay as it is light and dry and nicely complex. Daniel instructs in the professional way of fully tasting the wine. It requires a bit of mouth and in-breath coordination, but once I get the hang of it, I see the benefit.
Next comes the 100% Chardonnay with 7 months in French oak, 2nd use barrels. This is such an excellent Chardonnay, I am happy that I chose to taste the Reserve line. Wine lovers who live in Baja, are very familiar with the classical L.A. Cetto wines as they are found everywhere and most restaurants carry this traditional line. The Reserve is definitely a step up and well worth the extra cost. This Chardonnay offers up toasted coconut, ripe banana and at the end a hint of buttery popcorn. Daniel is well versed in the identification of many different flavors that a trained palate can identify. We talked about the movie, Somm, and how difficult it is to become one who can not only name the grape varietal, but what year it was harvested and the region of a certain country. There is a lot to learn to in order to wake up the palate and this creates a much deeper appreciation of a fine wine.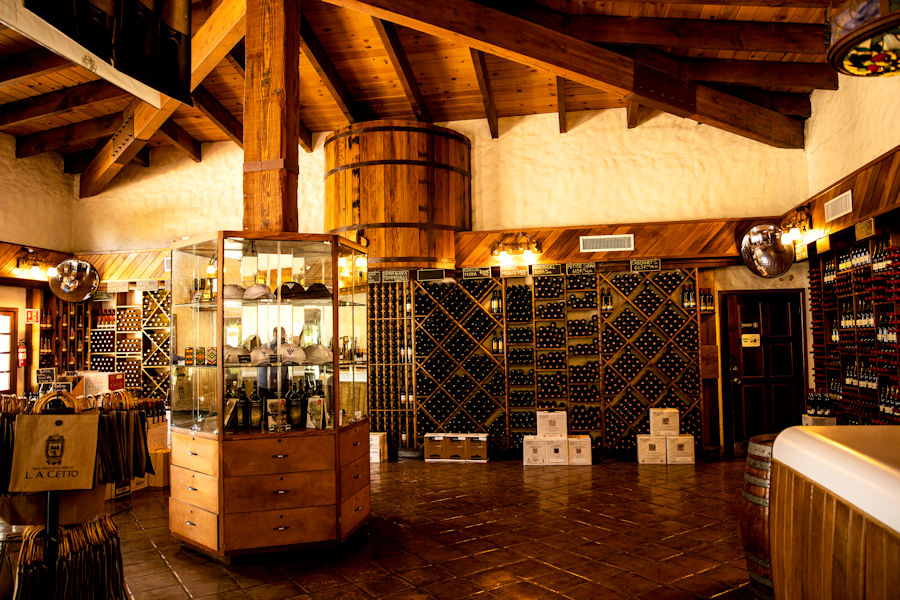 On to the reds; Daniel pours a 2015 100% Cabernet with 16 months in first use French oak. The bouquet was like entering a dark forest where truffles grew. The tasting offered dark plum, a hint of eucalyptus, and a tease of dark chocolate at the end. Daniel explains a simple difference between the Classic line and the Reserve. The Classic is easy drinking and fruitier, while the reserves have a spicy quality with time in the barrel and are more complex. Daniel cautions, "Wines are all different and what we like is a personal thing. We make our Classic wines for those that are just discovering wine and for those that like a friendly wine at a fair price." As he pours the 2015 Terra he says this was a very good year. It is a blend of 50% Cabernet, 30% Merlot with 10% each, Malbec and Pete Verdot. He goes on to say that each grape is processed separately and aged 12 months, when it is then blended together. Terra is a rich blend with an aroma of black plum and notes of pepper. It was then he revealed the staggering quantity of their production, 1.2 million cases. He continues by saying, "We are still experimenting, always looking for new ways of making something unique. In process now is an idea being looked at for leaving all the leaves and stems on in the fermentation process. We expect it will yield a wine with an herb flavor."
Little did Don Luis Angel Cetto realize when he first arrived in Baja California that he and his family would create such important changes in his adopted country. He and his family introduced the world to Mexico's fine wines, brought prosperity to the Guadalupe Valley, and put Baja California on the map as a wine tasting destination.
Interested in trying L.A. Cetto's wines in the U.S.? Visit L.A. Cetto's online wine room at Patrick Neri Selections to buy online now!
Article by Martina
Photography by Cintia Soto