The easy access of this winery makes it a perfect destination for a weekend visit. Traveling the Ruta del Vino from Ensenada east, it is only a few minutes to the small pueblo of San Antonio de las Minas. At the only stop light proceed pass the entrance, making a U turn to return. La Casa Vieja means old house in Spanish and it holds the echoes of the voices of four generations of the Toscano family. The landscaping is spacious and there is plenty of room for family picnics and children to roam. The history and the stories are a big part of what this winery offers to the visitor.
The historic 1800's adobe structure seen from the road is the oldest home built in the Guadalupe Valley. Austin Toscano purchased the old house in 1959 and his son, Humberto Toscano, grew up here. After the elders died, the home fell into disrepair. Later, Humberto returned with his own family, children now grown, and began a major restoration. The family literally made the adobe bricks with their hands, kneading soil and water into mud adding straw, faithfully rebuilding the home as it was done in the 1800s. It was a painstaking process staying true to the construction of the times. Once this was accomplished they turned their attention to making wine from the old Misión vines; some of these vines were planted over 200 years ago. One of Humberto's sons, Thom Toscano, became fascinated with creating an organic wine and digging into the history of how the padres made their sacramental wines. It became his challenge to unlock the secrets of the padres. And together the family began to sell their wines to the passersby, when there were fewer than one hundred wineries at that time. Today, there are more than 180 registered producers with more to come, as well as a surge of new wine resorts that feature gourmet restaurants and lodging.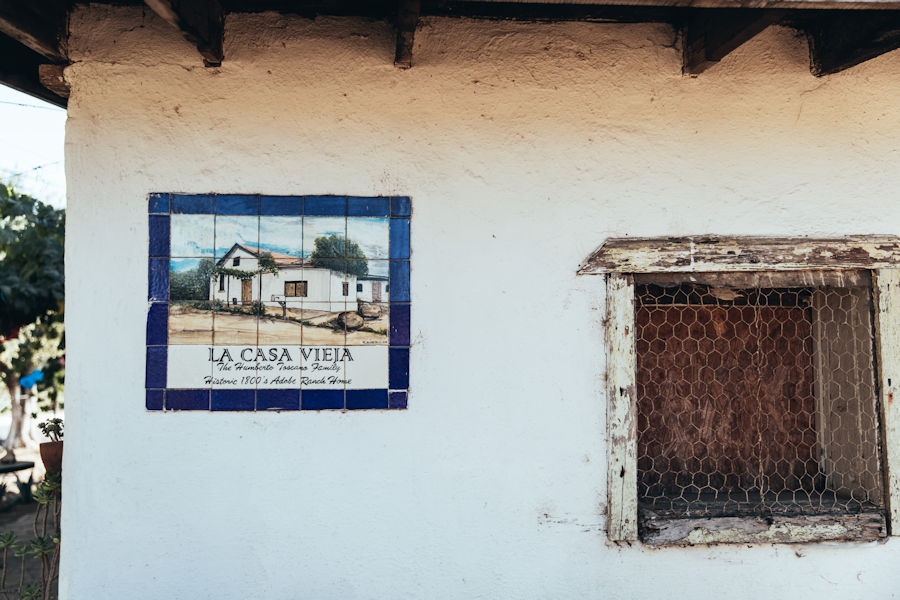 Walking into the tasting room, you immediately get a sense of the old world. Thick walls with inset windows let in a soft subdued light and are covered with local artwork. The handsome wooden bar is at one end and an old wood burning stove stand in one corner. Since La Casa Vieja is known for its old vine grapes, it is one of these wines offered for the tasting. Humberto, also known as Tito to the locals, says that these old vines were left unattended for so long they became deeply rooted and are tolerant of all types of weather conditions, especially lack of water. They need no irrigation. When Humberto began to rework the old vineyard, he was told by many vintners to tear all of them out and replant with the more traditional grape varietals. The reason is that the Misión grape is a large table grape and does not respond easily to the manipulation needed for wine production. Today's tasting held the history of this grape and all the people who had gone before. It is delightfully fresh and an easy to drink wine, going nicely with picnics or friends gathering around for an afternoon chat. Just outside there are several "mother" Misión vines that are attractions in themselves. The trunks are the size of a small tree and the branches bigger than a strong man's bicep, still producing clusters of grapes. The Palomino grape is also another old vine and there are only a few wineries in the valley producing this particular varietal. It is golden in color with surprising flavor for a white wine. And the Malbec, which completed todays tasting was young, yet offered a very nice fruit forward with a bit of spice and a long smooth finish.
Tito is proud of the fact that his wine is now being exported to San Francisco, New York and Florida and he admits he is "kinda blown away." Another feather in Humberto's hat is an August 2018 article in Ford Magazine. La Casa Veija was sighted by the author, Lauren Mowery, who writes about Peter Weltman, who is creating "Borderless Wine Alliance." The thrust of Weltman's idea is "When you see a border, do you find boundary or possibility? Borderless Wine is about creating an entire mentality shift, which means finding new ways to think about wine. I'm seeking to report on stories from around the world, as well as deliver talks for both trade and consumers." Mr Weltman says, "Writing is a tool to give these underserved regions, grapes and people a voice, but it's all driven by my underlying compulsion to act. So, I took a new step and will be importing the first Borderless Wine Alliance wine from Mexico called La Casa Vieja." And the article goes on to say, "This tiny estate is in San Antonio de las Minas, Baja. Its proprietor, Humberto Toscano, makes wine from the old Mission and Palomino vines. Following the lessons of his father, not a trend, he makes what the industry classifies as natural wine."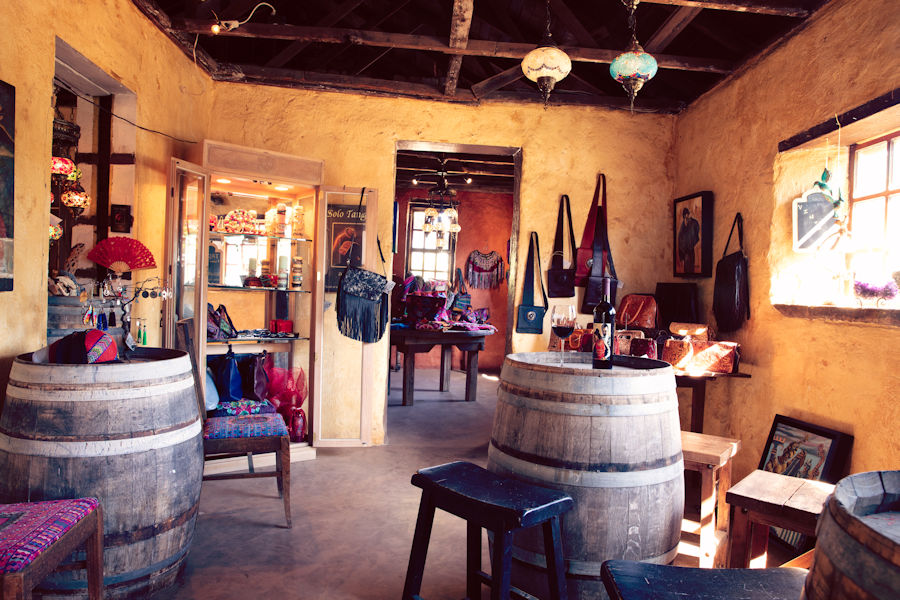 Another treat to be found here is Gotán Art Gallery, VinTango tasting room and gift shop by JoAnn Knox. JoAnn found her way to Baja in the early 90s and established her first art gallery where people enjoyed a touch of the bohemia. It was here dancing the tango started on warm summer evenings. Later she became immersed in the art of winemaking. A blind wine tasting was held at La Casa Vieja in 2010 where she surprised everyone as a new winemaker by winning first prize for her 2009 Zinfandel. She has found a perfect place in the original adobe home of the Toscanos for her new gallery. Gotán has a cozy welcome and warm intimate lighting that sets off the fine art of Scott Kennedy, Lucy de Hoya, Francisco Cabello and Rocio Hoffman. Her award winning wines are aged for two years before bottling, pleasing the serious wine lovers.
The 2012 Zinfandel is spicy with lively berry. The Cabernet and Nebbiolo blend will captivate the palate. The outstanding 2012, 100% Nebbiolo is so rich and earthy it is a must to have a friend to share it with. JoAnn reports that it is aging beautifully. Both Lucy and Francisco created the labels depicting the smoldering tango and capturing JoAnn's love and passion for the dance. JoAnn is well known in the area and has her wines in Las Cabos and Puerto Vallarta, vowing to one day have her wines reach Mexico City. For a fusion of rich experiences from the past to the present, plan an afternoon visit to the historic winery La Casa Vieja paired with the art and romance of Vintango.
Article by Martina
Photography by Cintia Soto