Great billowing thunderheads fill the blue sky behind the range of mountains. It's July in the Guadalupe Valley and the heat is reaching its peak. The mature vines are heavy with fruit. The plants are shrouded in fine netting to keep the hungry birds and opportunistic squirrels from dining before the grape is ready to harvest. Turning in off Highway 3, a dirt road climbs up the hillside to Hacienda Guadalupe. The signage is very good and the parking is nicely terraced above the restaurant. A gently curving pathway, cuts through green lawns and lush garden to the front door of this contemporary styled hacienda, owned and operated by the Sánchez family.
The traveler is instantly greeted by a handsome young attendant and seating choices are offered; a charming wine tasting area on the patio, the inner dining area inside or the patio dining with its splendid view of the vineyards, stretching out to the foothills on the opposite side of the valley. There is also an option of making dinner reservation which will include a wine pairing experience with your meal. Karen Saavedra will guide the tasting, she is a woman with many years of experience, education and passion about her county's wine production. Today she will be sharing the MelChum wines named in honor of the family of Gabriela, Daniel's wife. As a team they began the vision of their future years ago. The MelChum wines have won awards in the international competition, Ensenada Terra del Vino and at Baja California's State University.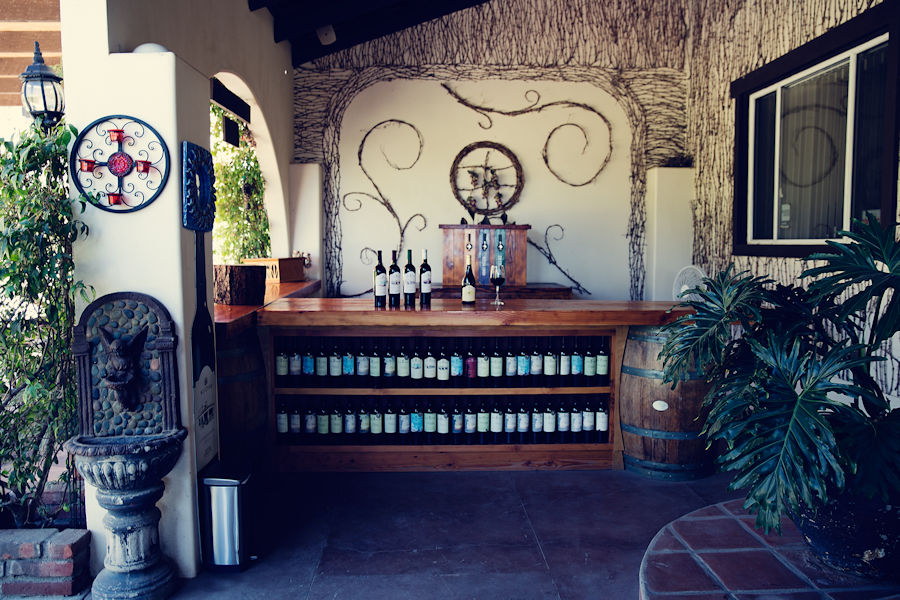 Karen presents the wine artfully and we begin with the only blend in production at this time, a 70% Chardonnay and 30% Sauvignon Blanc. It sparkles with delightful golden tones and is wonderfully fresh, as it does not pass through the oak. Sipping this was fun with very light acid and followed with pineapple and citrus fruits. We are joined by Daniel who begins to add his personal insights, which includes the history and love of his family. We start a progression of tasting that is meant to develop the palate's understanding of each grape. Starting with a 100% Merlot 2014 with 9 months in both French and American oaks barrels, it presented with red fruit and soft tannins which made it friendly in the mouth. The long opening was smooth and strong. Daniel shared that he and his family moved from Ensenada to the United States and lived there for 19 years. During that time they returned to the valley to taste the wines and it became a destination. One day the talk of moving back to Baja California became a reality.
"We started with the hotel, putting off building our home. Once completed we decided to build the restaurant, putting off building our home once again. Now we are completing the winery and tasting complex that will be completed in fall 2017. It is going to be so beautiful." He smiles, pointing to the very top of the hill, "And one day our home will be up there."
Karen pours the 2014 100% Cabernet Sauvignon, with 9 months in the barrel. She noted that there was a hint of red jam and fig. It is an expressive wine, sinuous legs and a very long opening to the finish; which seems to be characteristic of Melchum reds. Daniel continued, "We gave our daughters a choice to stay in the states or move back with us. They were both going to school at the time and considering their professions." They chose to come here and now Paulina, MBA, manages the boutique hotel and Carolina, chef, manages the restaurant. "You know in our culture, fathers want to keep their daughters with them forever," he smiles and admits, "I am very happy."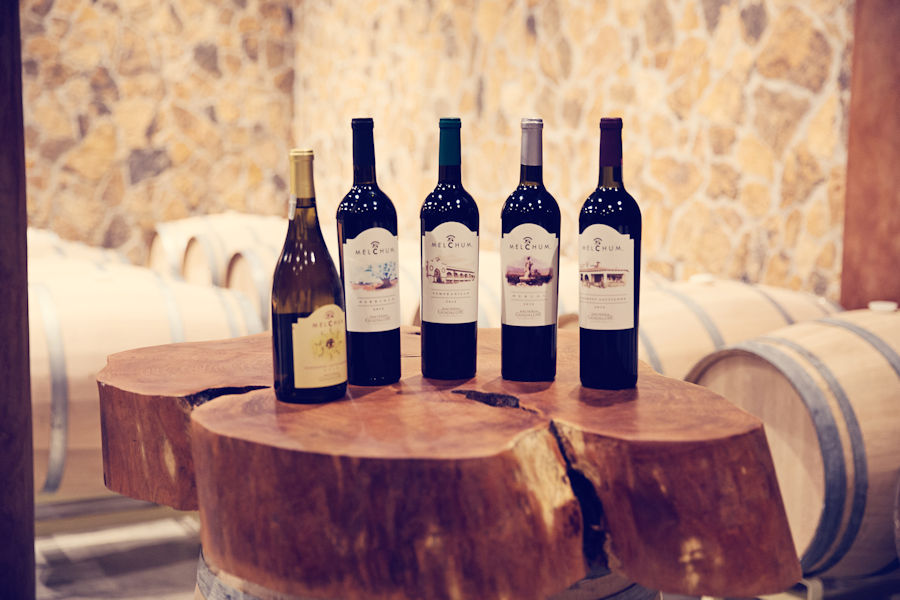 Karen approaches the table with what she describes as her favorite, a 100% Nebbiolo, 2013 with 12 months in French oak. Daniel swirls the glass, looks at the long glistening legs and glances out to the vineyard. He sips with a potent silence. It is as if in that one sip is the entire step by step experience from vineyard to bottling. Daniel breaks the silence, "They say, if you want to be a millionaire winemaker, you first have to be a billionaire. It requires a world of patience, nearly 8 years before the first bottling. We might make mistakes along the way, but often it is nature that challenges." In the summer of 2016 the climate was very severe due to lack of water and an unusual heat wave that destroyed 40% of the grapes in the Valley. Being resilient is a requirement and Daniel expresses that when talking about the loss. Even though there was less wine produced, he is very curious about the character of this limited production. "We had to harvest early and the sugar was very high and this will create an intense wine with high alcohol content. We will see." By some quirk of climate, the winter of 2016 into 2017 was a surprise with plentiful rain. "The harvest is going to be very good this year. Everyone should mark their calendars for the 2017 harvest." There is little doubt that this is an intimate collaboration between man and nature. The proof is in the taste. It is hard to believe anything could be as good as this MelChum 2013 Nebbiolo. It presents with red fruit and is very expressive with a beautiful full body. It is a perfect balance of plum, fig, dark chocolate and tannins. "All the love, effort and commitment is right here, in this one taste. We enjoy it so much and we never get tired of it."
Daniel and his family invite you to experience a weekend of pleasure in the charming 16 room hotel with swimming pool. It is an easy walk to the wine tasting and restaurant. Across the main highway, the Vine and Wine Museum provides the wine lover with a very comprehensive presentation of the history of Baja California wines. Daniel laughs as he says, "I want everyone to know that English is spoken here." For a venture into Baja California wines, Hacienda Guadalupe is a must experience.
Read more about accommodations at this luxury boutique hotel located right on the wine route.
Interested in trying Hacienda Guadalupe's wines in the U.S.? Visit Hacienda Guadalupe's online wine room at Patrick Neri Selections to buy online now!
Article by Martina
Photography by Cintia Soto