There is a feeling of being nestled in the surrounding hills of Francisco Zarco, a warm comfortable feeling in the fertile valley and the lush vineyards. The Fuentes family has a three generation history here on this land. The tasting room is easy to access and welcomes children with a play area that allows adults to play as well. The family own and operated vineyards have a special home-like quality where each guest is treated like part of the family. Miguel Fuentes' greeting is big and bold and there is no doubt that he is happy to have guests.
The welcome happens even before we reach the door. Miguel steps outside and asks would we like to begin with the tasting or lunch at Sarmientos Restaurant next door. Choosing the tasting room first, the door is held open, a unique expression of thoughtfulness. The Tasting room is lovely, done in soft wood tones with a glow from track lighting and a whole wall holding many of the Fuentes' wines. An A/C runs silently, keeping the room pleasantly cool and will be very appreciated in mid-summer to fall when temperatures soar. A cute little gift shop offers hats, T-shirts and mementos.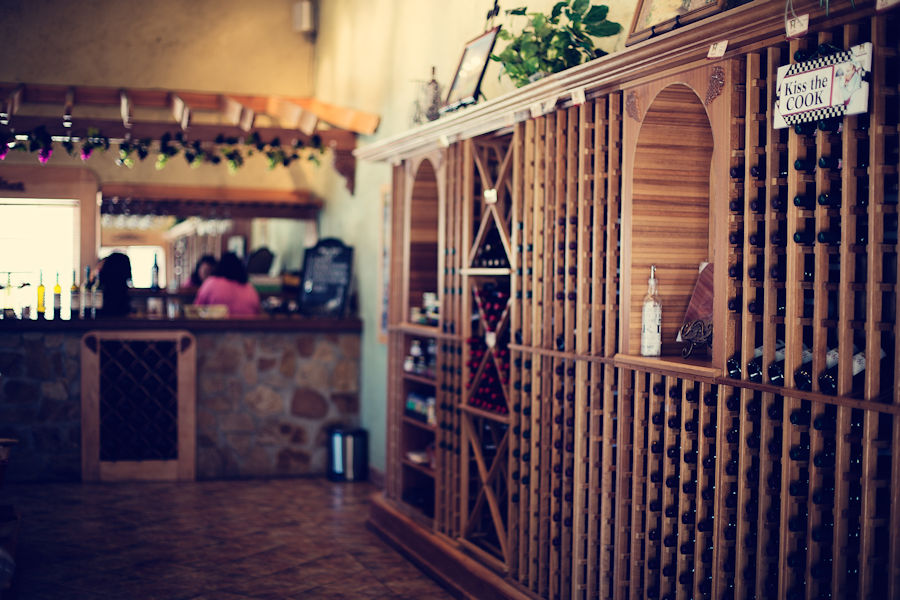 Miguel sets up the glasses for a free tasting of five wines that included bread and home grown olive oil. Miguel is easy to talk with and shares his thoughts about his history and wine production. He pours a 2013 Cabernet, Grenache with 14 months in the barrel. Miguel is quick to say that his wine is dry, so for those who prefer a fruitier or sweeter wine, he is happy to suggest another vineyard that will please the palate. "You know, I don't go along with what many will say is a good wine. I ask, who is the expert?" He stops to see if there is a forthcoming answer, then he exclaims, "You are! You have to believe what the taste is telling you." The first sip was a surprise with a note of bacon that I'd never tasted before. Miguel brings out what is called The Wine Aroma Wheel. The tasting became exciting with the discovery of how to identify some of the more subtle aroma's and tastes. It was learned that bacon aroma comes from the toasted oak barrels and this information was like opening up a whole new world of discovery and appreciation.
With the second pouring more history opened up along with the 2010 Tempranillo. In 1958 Miguel's grandfather bought the ranchland well before any idea of making wine to sell. Hector, Miguel's father began to grow table grapes to sell to other wineries. Miguel has fond memories from his boyhood of playing in the muddy fields with his friends. He has lived a lifetime connected with the land and understands nature and its growing cycles. As an adult, it was natural that he would pick a course of study that served his family and the land. Miguel graduated from the University of California Davis in International Agricultural Development. Now he was ready to suggest to his father that there was a future for wine production in the Guadalupe Valley. This Tempranillo had an aroma of truffle that comes with an aged red wine that is well developed. The taste had a touch of anise and tart plum with a long finish. Anise is a spice that comes from the red fruit as does the plum. This tasting wheel was opening up more than just the identification of the aroma, but also a deeper appreciation of wine production. "There really isn't any bad wine, it has to do with a person's palate. Someone will love a well-aged wine while another will prefer a younger wine that is easy to drink." Miguel stressed, "A person's state of mind will impact the tasting experience. If you are happy, stressed, or sad, it will show up in how you receive the wine."
The 2010 Merlot was leggy, with an opaque garnet color. Its aroma was of oak and a little bit like mushrooms in dark soil. The Anise or licorice note held to the end. Always quick to laugh, Miguel preceded to tell a story of a guest who was complaining that his doctor said he could have only one glass of red wine a day to help the heart. People who really love wine, usually laugh at the idea of just one glass of wine. The man begged Miguel to sell him a huge footed glass goblet on display that would easily hold a gallon of wine, figuring he wouldn't have to lie to his doctor anymore.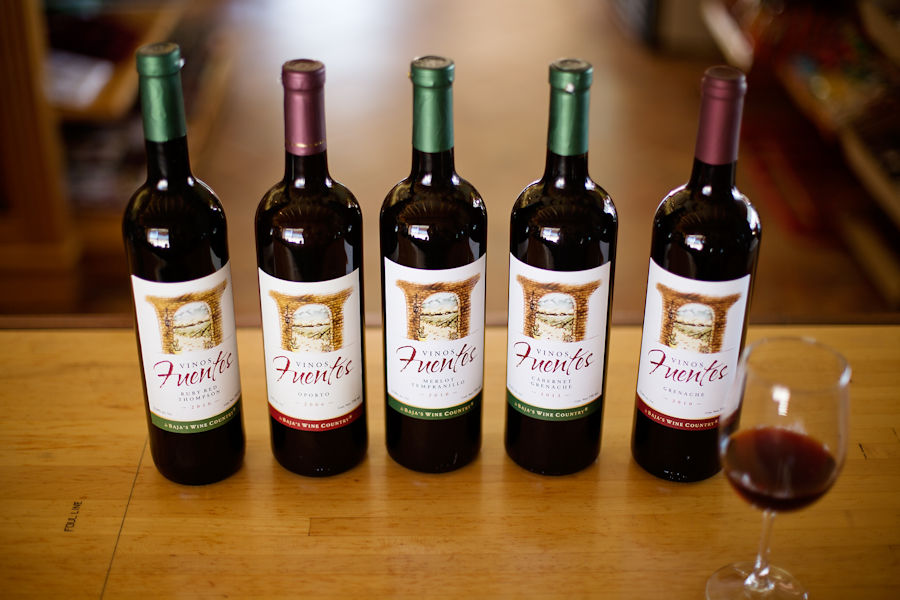 Vinos Fuentes could be considered an organic wine producer as there are no chemicals added to the vineyard or the wine. However, he cannot procure an official organic label, because the vineyard is sided by three other vineyards who do. As Miguel continued his lively dialogue he poured next an experiment driven solely by people's request to combine the table grapes, Ruby Red and Thompson. In this 2010 production the whole grapes are combined together, rather than fermented separately. It was a courageous experiment that produced a very deep color, light bouquet with a taste of berry, jasmine and a slightly "flinty" note coming from fruit itself. Miguel says he is always "curious" about the unknown factors that go into his wine, including his philosophy that, "Life is a celebration. We can be so grateful for what we have and who we are." Finally Miguel poured his 2006 "port style" desert wine, "Oporto" with 24 months in French oak. WOW! is the first word that applies. Dark gemlike color, full and rich, it carried notes of vanilla, caramel, and butterscotch. This, more than any of the other wines, expressed this winemaker; big, bold and happy.
Sarmientos Restaurant is just across the patio in a comfortable ranch house setting and welcomes children. The menu is extensive. There is a current trend in the valley toward gourmet dining, however this is a family experience with hearty portions and reasonable prices. Miguel grins, "I promise you that you will not leave hungry." The promise fulfilled, you will most definitely leave filled with more than wine and good food, but also with a clear understanding of the heart of a winemaker.
Article by Martina
Photography by Cintia Soto