El Laurel is an afternoon destination that will take you six miles into the hills of the Guadalupe Valley. The directions are a bit challenging, but for the hearty Baja traveler it is a piece of cake, and will take you away from the maddening crowds. Starting from San Antonio de Las Minas, proceed east. Watch for a cute café in the shape of a wine barrel on your right. Just before the café, slow, turning right onto a dirt road. Proceed up the hill. A curve to the right and you will see a Toscana sign, watch for the first left where you will see El Laurel's blue winery sign. This will take you up and around the hills and down into a lush arroyo with dense tree growth. During the rainy season expect to ford a stream. The roads are good enough for passenger cars. What is surprising as you continue to follow the blue El Laurel signs is how many lovely homes there are so far from the main road. The signs might disappear for a while, but will appear just as you need them. You know you are close when there is a U turn sign, which puts you on a secondary road and to the entrance of El Laurel.
While the name might remind us of the Laurel wreath made from laurel sumac, it is not how the winery got its name. Laurel is the last name of the owner, Raymondo Laurel who first opened his winery to the public almost ten years ago. Pulling in, the parking is easy and there is an immediate sense of welcome in the midst of long needled Jeffrey pines and other mature trees. The large open patio is covered with shade cloth for outdoor parties. A smaller terrace welcomes a more intimate group setting for tastings. Today I am greeted by Juan who has two years of study with El Laurel. He feels he is very lucky to have found work in the growing wine culture of the Guadalupe Valley.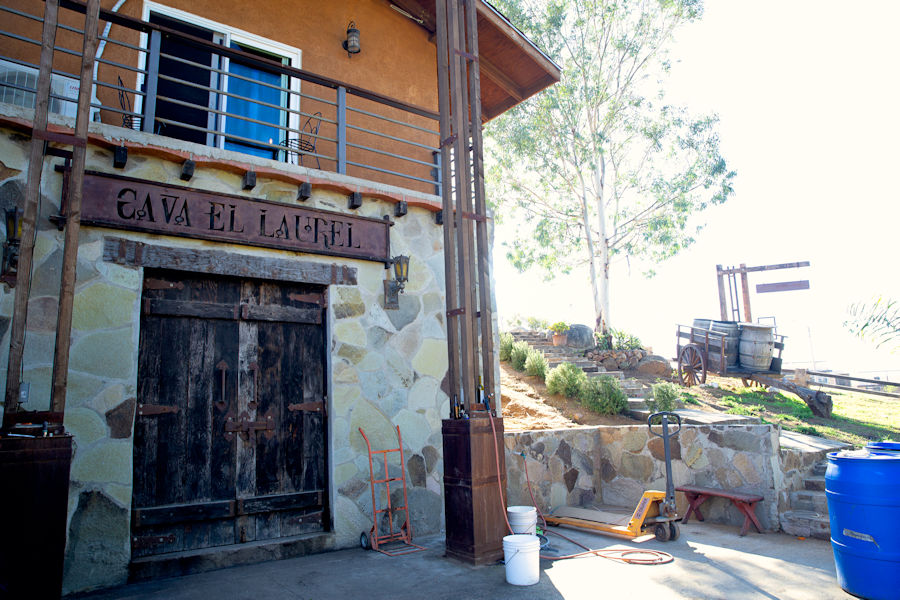 I have chosen to bypass the offer of the four young wines in favor of the four aged reds. However, I was curious about the one white wine from the Muscatel grape. Muscatel grape is usually used in blends and one does not see it often, standing alone in the valley wines. It is said that the history of this grape goes all the way back to the ancient Greek winemakers. The aroma was "grapey," but very pleasant as is said about this varietal. Golden yellow in color and intense aroma was the first impression. It was slightly sweet with citrus, flowers and a nice tart finish. Well chilled, it would be a fine addition to summer events. Juan said that many people who like to hike into the hills find their way here and enjoy stopping in for a rest and a glass of wine.
The breeze moves through and ruffles the shade cloth, the calico kitty and friendly pooch, hanging around our table as Juan pours the 100% 2016 Tempranillo. This has an interesting process and shows the artistic nature of Mexican wines. Although 100% Tempranillo, it is a blend from two different American old barrels; one having been aged one year and the other having been aged two years. Tempranillo's name is derived from the Spanish temprano, meaning early, as it is a grape that ripens several weeks ahead of the other red grapes. It is said to have been introduced in the Western Hemisphere by the Spanish Conquistadors in the 17th century. Juan pours the deep red liquid into the glass. The bouquet has a hint of smoke from the wood. It is full bodied with dark plum notes, finishing with gentle acidity. Guianna, the name of this wine, is a blend of the names of Raymondo's three grandsons.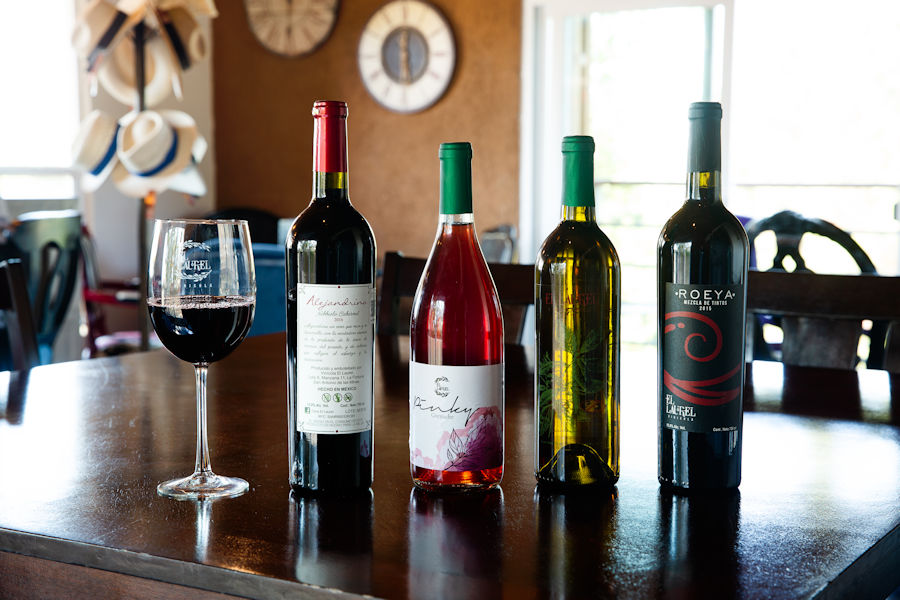 As we move on to the 100% 2015 Cabernet Sauvignon with 1 year in both French and American oak, I ask about the interesting name, Tetabiate. In the small winery productions, so often each label tells a family story. This story comes from Raymondo's grandfather, who used to attempt to bring order to his unruly little grandsons. "Tetabiate!" he would holler. This dark and dry wine had a prominent oaky tannin finish and those who love more barrel in the glass will favor this.
The 2015, ROEYA, is a blend of Cabernet Sauvignon, Malbec and Nebbiolo with one year in American oak. So many of the family wineries honor family and this is no exception. Raymondo has five brothers and he took the first letter of each name creating a label which shares the loving bond. The name has almost a musical sound. Another unique process keeps each varietal separated into their individual barrels for 1 year. Then the blending takes place a few weeks before bottling. This is a decision for the wine maker, it is what all artists know intuitively, when the masterpiece is done. The decision is made to bottle. The artisan can choose to blend halfway through the aging or they can crush all the grapes as one blend to hold them together in fermentation and aging. ROEYA presents with the distinctive cabernet, mellowing into a lovely finish. This wine stands up to be counted. Presented last is Alejandrina, a 2016 blend of Cab and Nebbiolo with 1 year in French and American oak. This honors Raymondo's grandmother. As a young girl of 16 she became a school teacher in southern Baja. For fifty years she traveled north teaching the children of Baja and writing poetry of her experiences. She came to make her final home in Ensenada. Her poems of life fill a book and the label features her poetry. Dark sparkling ruby color fills the glass and is enjoyably, lusty, and complex. It offers an earthy quality with hints of blackberry, red fruit and vanilla. Alejandrina calls you to pay attention, so you won't miss the experience.
Juan points out that the artisan beers they produce are a community collaboration. New breweries have sprung up all over the valley, seemingly overnight. When you are already producing wine, it is not a reach to add a few artsy beers to your menu. When traveling with people who have not yet discovered that they love wine, they will gladly come along for a fresh brew. While El Laurel produces the well-known Double IPA Amber they also have a Moscatal grape fermentation which is highly favored by their patrons. All in all, El Laurel has you covered and a handmade sign tucked into the garden foliage recommends, "Wine a bit, you will feel better." Oh, how true!
Article by Martina
Photography by Cintia Soto