In the old days it was a real adventure to find Doña Lupe's vineyard and organic farm way off the beaten path. Heading to Tecate from the coast, Highway 3 was a narrow two lane road. Back then a traveler would leave the main road to take a long dusty washboard, skirting the lands of the Kumiai Indians. The road wound its way past the well-known LA Cetto, Baja's largest winery. In 1968 Lupe Yi's husband purchased the land, but unfortunately died before their dream began. With her love of the land and her commitment to nature and natural grown things, she began to create what would become a very popular destination. Long before it became fashionable, she was an early leader in the organic movement. Lupe had no plans to expand, but with the sudden explosion of interest in Baja wines and increased development, tours began to pour into the valley. Lupe is now in her 80s and the homestead has become a thriving tourist attraction. A welcome sign is posted in seven different languages.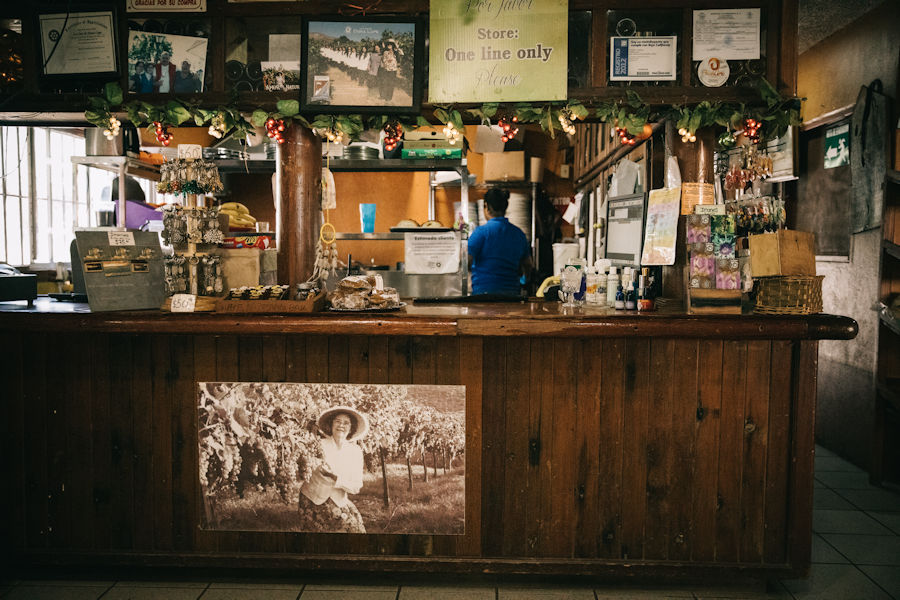 Today, Highway 3 to Tecate is four lanes a good part of the way and the road out to Doña Lupe is newly paved. Take the short dirt road to the rancho which cuts through the vineyard and the thick overgrown organic gardens. The remodeling of the new store front has been kept to a minimum with a look of old mission walls. A tour van is idling, waiting for a group of students being guided through the area. Walking through the arches, picnic tables fill the large area under fluttering shade cloth. Midweek it is quiet and you can wander around at your leisure. English is not readily spoken, but the staff is friendly. The wine tasting has been moved to an outside location to accommodate the large group tastings and is part of a massive stone structure for events that dwarfs the original homestead. The tastings for the day appear on an overhead blackboard and today they are featuring samples of their 2012 production.
You might want to pick a table and choose from the yummy menu to go along with your tasting or a chilly artisanal beer produced here as well. Shirley, Dona Lupe's daughter came aboard to create homemade breads on site. One of the favorites is a loaf stuffed with Jalapenos and cheese, warm from the oven. The homemade lasagna is filled with all the hints of herbs from of the garden and the vegetarian pizza is earthy with natural flavors. The tastings are served in small shot glasses, which does not present the wine as one would expect, however the luscious Cabernet Sauvignon is a perfect down home pairing with the menu selections. The bird songs fill the old growth trees and watching the ranch kittens play around the tables, transports you back to the days on grandpa's farm. The wind almost always blows into the valley to cool the day and it fluffs the golden shade cloth creating waves of sunlight patterns. You can take your time and when you are ready, go up to the tasting bar to pick your next favorite wine from the offering. The Nebbiolo is quite rich, fruity with a note of tobacco, a sigh from a well-aged red; taking home a bottle is not out of the question. A 100% Barbera is a winner. It's fresh blackberry and notable acidity is perfect with lasagna. The 100% Tempranillo finishes off the tasting. It has a vibrant first impression, offers essence of spice and red fruit. What makes these wine special is their history. Dona Lupe planted her grapes when she first arrived, consequently these vines are now what wine connoisseurs call "old vines." A vine must be over 25 years old to be classified as a coveted old vine, because they produce prized fruit. Winemakers bid on each year's harvest and the price is substantially higher than grapes from new vines. After 20 years the vines begin to produce smaller yields, yet this is actually why the fruit is sought after. Old vines will produce more concentrated and intense wines. At some point it no longer economically sound for large wine producers to use these grapes, but for boutique wineries, they are superb. Dona Lupe and family have kept production limited for this very reason. Their entire vineyard is comprised of old vines. As Juan Yi puts is succinctly, "Our vines are 40 to 50 years old and they produce 50 barrels per year. The low yield is of very high quality and the wine is made with love."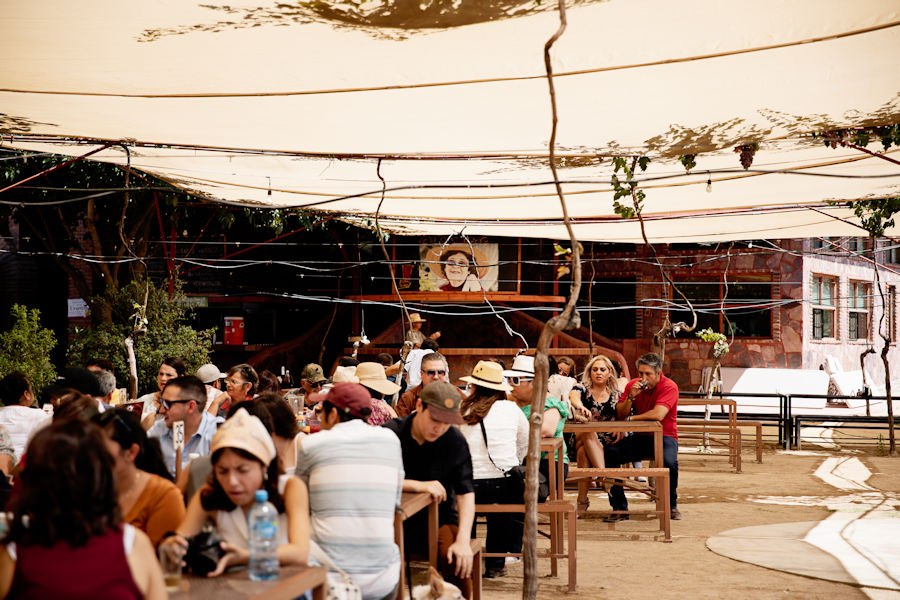 Wine tasting is only part of what Doña Lupe offers today. The small rustic gift shop beckons the visitor as it has for nearly 50 years. Sample are given out to taste the homemade bread slathered with the organic jams and marmalades. These can be ordered online and shipped right to your door. The organic salsas are sure to heat up any dish with a warm chipotle, but watch out for that habanero! Health conscious folks have found grape seed helpful in many ways and what better place to find outstanding organic seed than from a grape grower at a reasonable cost. The list is long of all the goodies found in such a small shop. Organic olive oils with garlic and spices, salad dressings and of course essential oils. Oh, and a thick bundle of white sage and fresh lavender will fill the kitchen with a unique Baja scented memory.
Leaving with a bag full of goodies, there is an interesting side trip, if adventure calls. You can visit the Kumiai pueblo, just a few minutes away. The paved road ends and the way into the village is sandy river bottom, not suggested after a rain. There is a small museum and examples of how their lodging was built, using what nature offered to them. At certain times of year, there are indigenous ceremonies and visitors are welcome. There is traditional dance and song and the artisans come to sell their fine art of basket weaving and pottery.
Article by Martina
Photography by Cintia Soto