The free road begins at La Fonda and meanders through the small towns of Santa Anita and La Misión. This area holds the history of the Kumiai Indians and the missionaries who planted their grapes vines for the sacrament. This was the original trail, before the toll road was built along the Pacific. The two lane road then winds its way up the side of a mountain that stays shadowy and damp, lush with fern and wildflowers. As rain turns the hills into a massive carpet of green with yellow wild mustard and orange poppies, the drive to the Guadalupe Valley becomes enchanting. Blue skies with great white mounds of clouds are the backdrop behind layers of dark mountain ranges to the highest peak, Sierra Blanca. The entire drive to the historic Domecq winery gives abundant photo opportunities at every turn.
At the far eastern end of what is thought as the Guadalupe valley is the lesser known part of the larger valley called Valle de Calafia. The road, which has been fully paved, allows for a swift drive from the turn off on to Highway #3's Ruta del Vino east. In ten minutes we arrive at Baja California's first commercial winery which is now under new ownership. For a number of years it was not open to the public, but was still producing and distributing wine. There is some confusion about which winery is actually the oldest. When speaking of the Guadalupe Valley it is Domecq that was first in commercial production and open to the public. Then LA Cetto followed in 1974. The oldest winery in all of Baja California is in fact Santo Tomas, but its origins put it outside of the now famous Guadalupe Valley. The late Pedro Domecq, who was a member of the centuries-old Spanish family renowned for its sherries and ports, left Spain for Mexico to start out on his own. He eventually established the brandy business, an affiliate of Pedro Domecq Spain. In 1948, the Mexican government banned the import of luxury goods such as wine, encouraging Casa Pedro Domecq to establish the winery and distillery in Baja California. Domecq de Mexico was a world leader among brandy producers, with its Presidente and Don Pedro brands. When moving into the wine country, they began to make their first table wines in 1969 from grapes grown in the state of Zacatecas. Early Baja travelers might remember the sweeter Padre Kino wines in the smart reusable carafe bottles.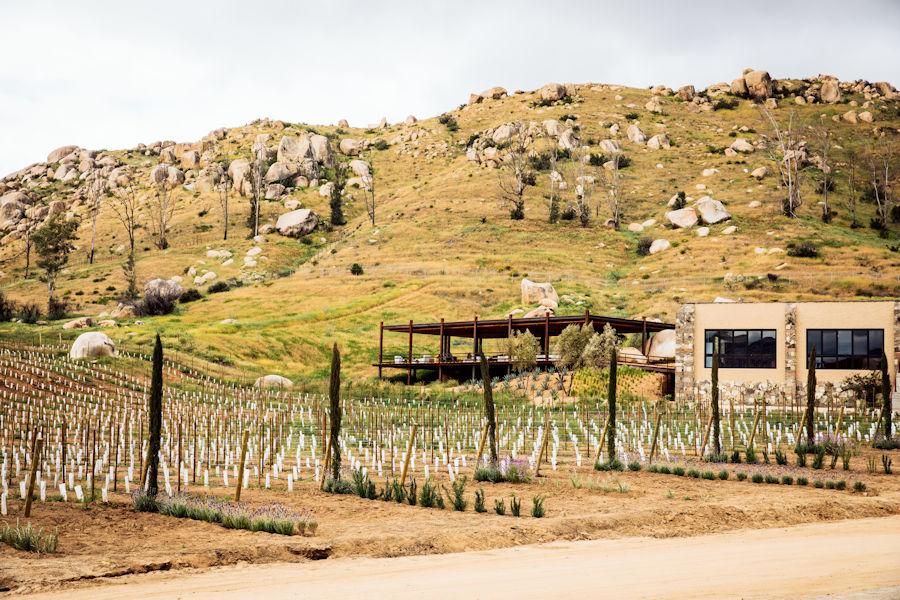 In an article from the San Diego Reader written in 1988 by Jeannette DeWyze, she wrote that a spokesman had said the plant was producing nearly 5 million gallons of wine, adding that this "puts it on a par with such California wineries as Sebastiani and Mondavi…and could go head to head against many of Napa venerable estates." They now produce over 90,000 thousand cases of wine, sold mostly within Mexico. Domecq has recently been purchased by overseas interests, who undertook a major remodel and reopened in October 2018. The tasting room has a daunting flight of stairs, but once atop the landing, affords a great view and modern décor. With insight the architect utilized the massive granite boulders for a dramatic outdoor terrace.
Miguel greets me and invites me in for a wine tasting. I inform him this is "work" for me, saying, "Well, you know, someone has to do it," and we both laugh, knowing how lucky we are to be here. Miguel finished up his college degree in culinary school in Ensenada. But with an eye on the future, realized he would be smart to make his way into the flourishing wine industry in the valley. He presents the first of four tastings, XA Blanco, a young white that does not pass through the barrel. It is a blend of Chardonnay and Chenin Blanc. Miguel points out that with the new owner and the insightful Trace Rojas as Manager of Tourism the upgrades included new labels which are more distinctive and eye catching. The XA Blanco has a freshness that is distinctive, without the effects of the wood barrels. It is a summer wine, fresh and meant to enjoy. With a price of $6 a bottle, it certainly fits the bill for a picnic on the beach.
Miguel and I chat about winemaking and wanting to convey to visitors the full scope of what goes into making a good bottle of wine. "It starts in the fields. Without those men and women who toil under a hot September sun to pick the fruit by hand, we would not have any wine." To make a glass of wine it starts with the soil and a good quality grape. "You don't make good wine out of inferior grapes," and Miguel pours the Chateau 2017 with 9 month in French oak. It is a blend of Chardonnay and a French grape, encuentr. Oh, that touch of the French grape makes this a lovely Chardonnay. It is complex, lightly buttery with a tart finish. This makes me recall a line from the movie Bottle Shock when Steven Spurrier quotes Galileo Galilei, "Wine is sunlight, held together by water."
Visiting the Guadalupe Valley wineries can be like going to wine school. Miguel is one who can teach as well as be a friendly host. How important it is for any vintner to put bright young local people behind the tasting bar. Miguel pours Reserva Real 2016, a blend of Cabernet and Barbera varietals. This is an interesting process as the Cabernet is held one year in French oak, but the Barbera is fermented and then put into stainless steel tanks for only two weeks. Barbera spends no time in the barrel and is blended with the aged Cabernet. A sharp palate can pick up the distinctive freshness of fruit with the smoky wood of the Cab. Miguel gives credit to their visionary wine maker Alberto Verdeja who has guided the wine production in unique directions for seven years.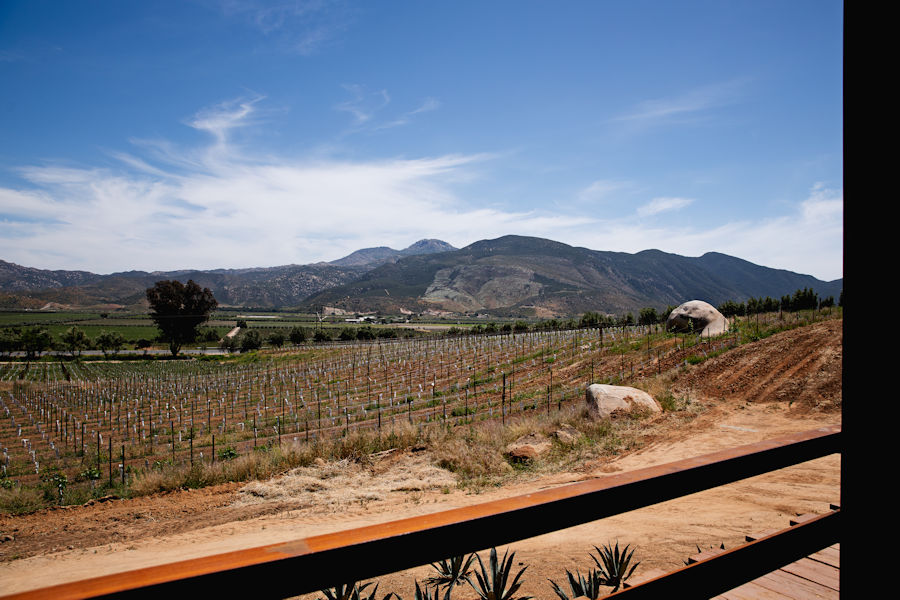 The fourth and last tasting is the Chateau vino tinto, 2016. It is blend of Cabernet, Merlot and Barbara with one year in French oak and held one year in the bottle before opening. "This is my favorite," says Miguel, "It is sexy and charming." We laugh at the youthful description and one could say it was intense and at the same time delightful with its mature fruit, elegant tannins and a touch of chocolate. This is certainly a wonderful blend for a price of only $15 US. And I must say that Domecq is producing wonderful very drinkable wine with a competitive market price.
There is a tour upon request with the wine tasting. The formable building is a fortress to honor the history of Domecq, while it also is part of the production. There are huge oak vats and smaller oak barrels to fill a central area. The décor gives a historic presence to go along with the story of how it all began. The tour moves through chambers and small vault where dust-covered bottles are held in private reserves. Miguel points to the brushed metal wall empty of the AX Blanco, "One person came in today and bought three cases." It is quite obvious after Domecq's long history it intends to compete by placing itself in a perfect niche in today's wine market, offering good wine at a fair market value.
Article by Martina
Photography by Cintia Soto