The last of the fall leaves cling to the dark twisted vines. The Guadalupe Valley lays dormant in the winter months. The deep roots hold the life of the vine until spring. From the town of Francisco Zarco, Château Camou lies north in the foothills of Cañada del Trigo. A paved road takes you to the main entrance, following a short dirt road, it becomes evident this valley has a volcanic past. Granite boulders are imbedded and exposed by time and hold the ancient story as they stand like sentinels. A road runner scurries through the dry grasses, swishing its long-feathered tail and a tiny Canyon Wren hunts for insects.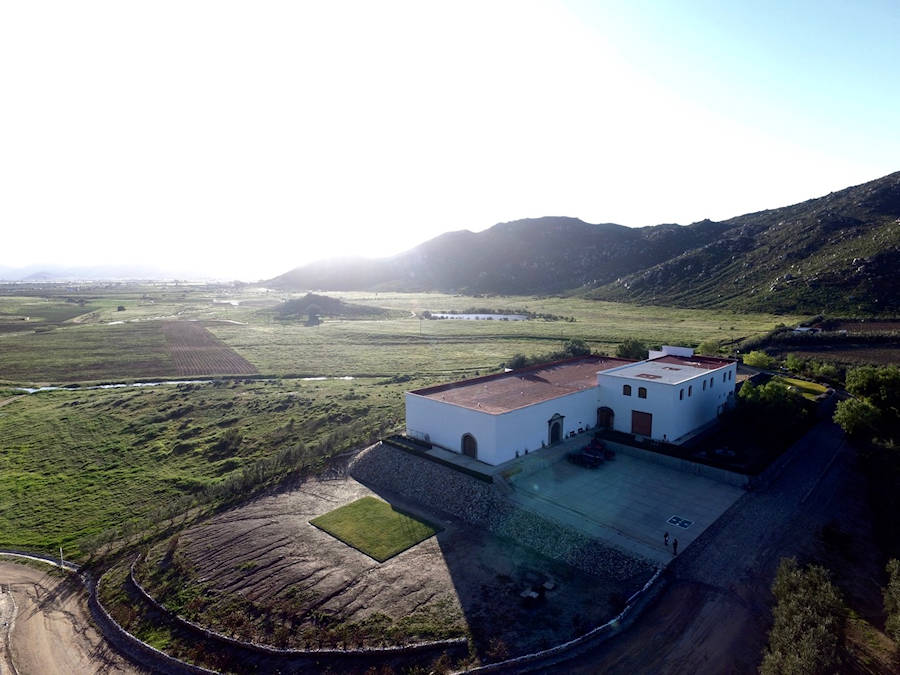 Château Camou is one of the oldest wineries in the valley. The stark white building, like a bastion of its past, is a serious icon in the rugged terrain. Easy parking and a short flight of stairs, the wine tasting is found through a brick arch and heavy wooden portal. Walking within the long cavernous room, there is a sense of having entered a quiet monastery and the long hallway is lined with tables and chairs made from the old oak barrels.
Before the turn of this century there were very few wineries in full operation, Château Camou was one of them. "Great wines are made in the field, so we take a lot of care in the vineyard and have the basis of our wines that express their terroir" says Fernando Favela Vara, founder by request of his father to fulfill his dream to create great wines in México.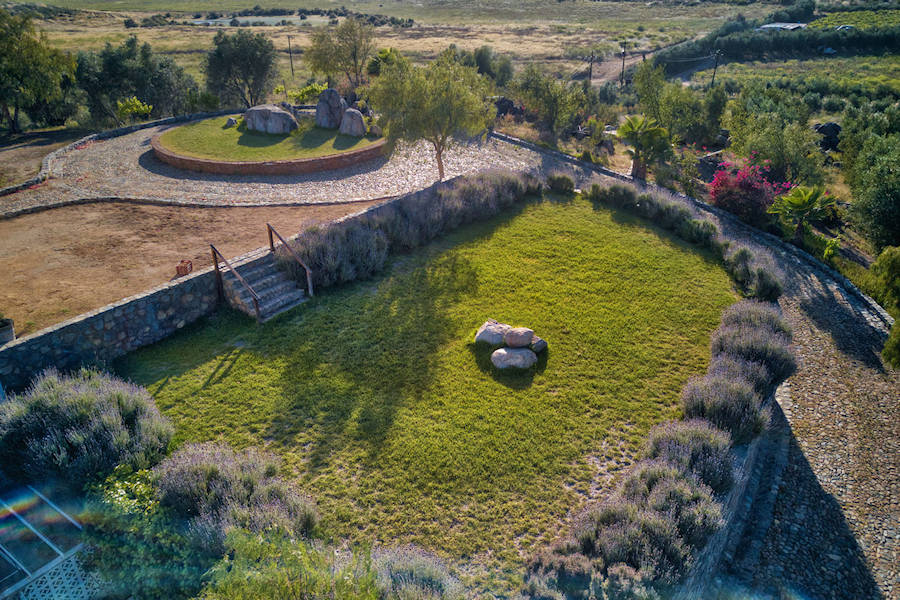 My host greets me and presents the first tasting of the Umbral wines. Umbral is Spanish for threshold. It is important for the wine industry to create wines for Mexican nationals who have yet to be introduced to wine from their own country. These Umbral wines are considered a "doorway" into the adventure of wine tasting and these four presented are meant to bring a true experience of Baja wines for most pallets. Each is meant to be an invitation and not a challenge. The first presentation is the Umbral Blanco, a blend of Chardonnay and Chenin Blanc. Fermented in Stainless steel and held in the bottle for six months before it is released. Its color, a golden yellow with nice transparency, has a refreshing invitation. The blend offers a crisp fruity beginning of passion fruit, guava, peach and a hint of olive. It is pointed out that within the soil where all things grow, the soil itself transports the tastes of the earth into the vine. In this area where olive trees flourish, this essence can find its way into the wine.
Then my host pours a 100% Chardonnay. This Chardonnay, unlike many other Chardonnay being produced in the valley, is fermented in oak, not stainless steel. It is then held in the French oak for six months, then held in the bottle one full year before it is released to the public (the 2019 vintage of this wine won a Great Bachuss award in Spain and was considered the best white wine of the competition in 2021). The more my host spoke of the process of winemaking, the more one can understand that it is really an art form to create excellent wine. It is always about taking risks. The risks have to factor in the micro-climate of the region's elements of sun, soil, and water. The Chardonnay has a clean and brilliant color with a delicate aroma of tropical fruits, honey, a touch of toasted oak, and a lovely buttery finish.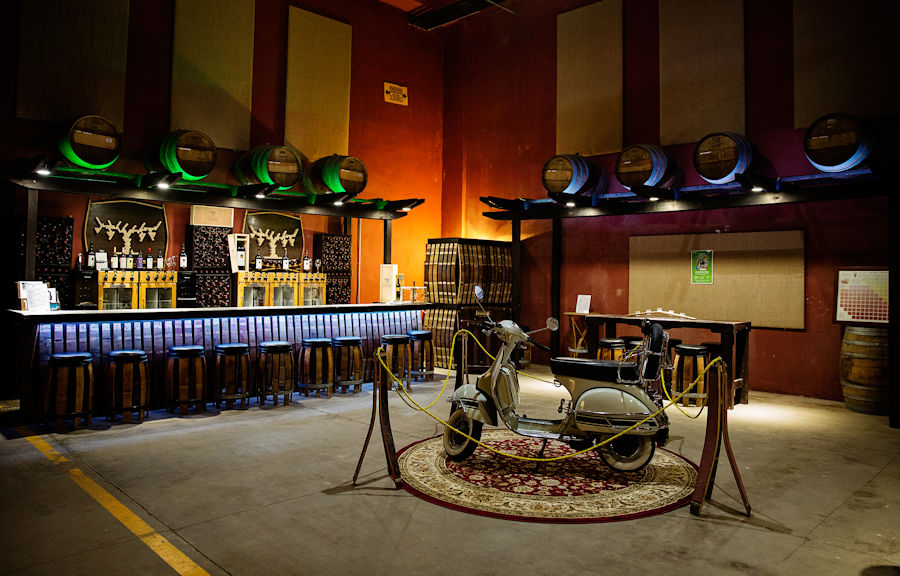 Moving on into the red wines, I am presented to Umbral Tinto, Cabernet and a Merlot blend. This has been held in French oak for a year and surprisingly held 6 months in the bottle. It has developed an intensity and could be called a bit edgy for a younger wine. Wine connoisseurs might be a little surprised by the depth of its color, ripe fruit aroma and black cherry that lingers in the mouth. To complete the tasting, my host pours a 100% Cabernet with 2 years in new French oak and one year in the bottle. This wine is bold, influenced by its long rest in new oak. Dark fruit, licorice, with an appealing velvety aftertaste. One wants to linger with this wine, adding, perhaps, a dark chocolate treat and good company.
The wines from Château Camou have won many awards worldwide, including being highly regarded in French competitions. As a matter of fact, Château Camou was the first Mexican winery to win a Great Gold medal in international competitions. My host shares El Gran Vino Tinto. It is a Bordeaux style blend of Cab, Merlot and Cab Franc and has 2 years in first use French oak with 2 years in the bottle, this is the wine that it said "placed México in the world map of wines". This vintage wine, along with all the other bottles, are stored in a vaulted room with perfectly controlled temperatures. If one walks in quietly, a profound living stillness is felt palatably. Stop and listen, you will not hear this elsewhere. Hundreds of bottles are artfully stacked in impressive sections, each with its own kind. Many of the "Gran Vinos" have been held 20 years and can be purchased. What is most outstanding in this experience is that along with the heart, passion and relationship with nature is the need for utter patience, a lost art in the 21st century, but alive and well in the Guadalupe Valley. Château Camou offers the world travelers and wine buffs the finest vintage wines, while at the same time beckoning the novice to explore the unique Umbral wines. Currently Château Camou offers several options for tasting, along with Umbral they offer a beautiful Rosé, and varietals like Merlot, Cab Franc and a marvelous Zinfandel. All highly awarded wines. Book your tasting by emailing reservations(at)chateaucamou.mx.
Article by Martina and Château Camou
Photography by Cintia Soto and Edgar Lima