Acclaimed Baja winery Paralelo is flanked on all sides of its ultra-modern structure by 250 acres of carefuly tended Barbera, Cabernet Sauvignon, Petite Sirah, Merlot, Sauvignon Blanc, Syrah and Zinfandel vines. Inspired and drawn from the earth, Paralelo honors the terrain of the Valle de Guadalupe in which it has taken form.
From the first glance, visitors can tell that Paralelo will offer something fierce, proud, different. It is an ambitious project: use identical ingredients, in exact proportions, yet nurtured on different terrain. Grown in parallel, as it were. The same grape varietal will give forth a complex and unique flavor from its twin, depending on whether it has flourished in sandy earth, rocky ground, hillside or reddish clay.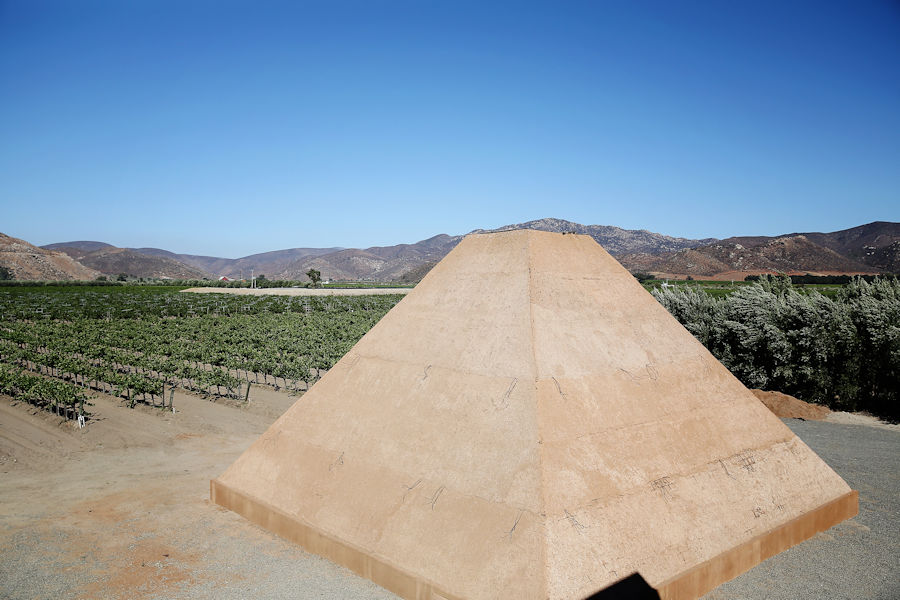 This inspired project is the creation of visionary winemaker, enologist, acclaimed consultant, and all-around wine genius Hugo D'Acosta. Renowned both in Mexico and now internationally for the profound impact of his work upon the Valle de Guadalupe, D'Acosta is also the force behind Casa de Piedra and winemaker for many other local wineries and the head of La Escuelita, a non-profit winemaking school in the Guadalupe Valley.
D'Acosta felt in his heart that northern Baja California had tremendous winemaking potential and has devoted himself to bringing out its finest qualities. His incredible work ethic and broad vision have inspired a virtual renaissance of gastronomy and viticulture in Baja California.
In 2005, D'Acosta selected twenty high profile partners to found Paralelo as the first of several small boutique wineries to source grapes from the extensive new vineyards and show off the diversity of the region. Each partner had a unique business background and perspective to offer the project - from wine distributors to owners of media outlets to directors of large Mexican corporations.
The tract of land they chose to purchase was a completely blank slate. No buildings, no old vines. A fresh start. Together, the partners brought in everything: construction materials, olive trees, and endless grape varietals. The vineyards are expansive enough to easily produce 80,000 cases of wine but, preferring quality over quantity, production was limited to 15,000 cases per year - sharing a very large part of their grapes with other local wineries.
Architect Alejandro D'Acosta (Hugo's brother) along with wife Claudia Turrent, are the creative force behind the design of the eco-winery. The rammed earth walls were imprinted with different objects they'd found on the property...from olive branches to Barbie dolls, bamboo and old tires. As Alejandro explained to Barbara Thornburg of the Los Angeles Times, "This building is in touch with Pachamama" ~ the goddess beloved by the indigenous people of the Andes. Nopal cactus impressions burst forth from within its earthen and concrete structure.
Hugo feels strongly that the art of making great wine rests in the growing of the grapes themselves. His vine clusters are thinned out, receiving less water and no fertilizer. They are harvested at different times in the year, in order to enhance different flavors within the grapes. For example when creating their Sauvignon Blanc, they harvest younger grapes if they're looking for more of an apple flavor, allowing them to mature slightly longer for the taste of peach.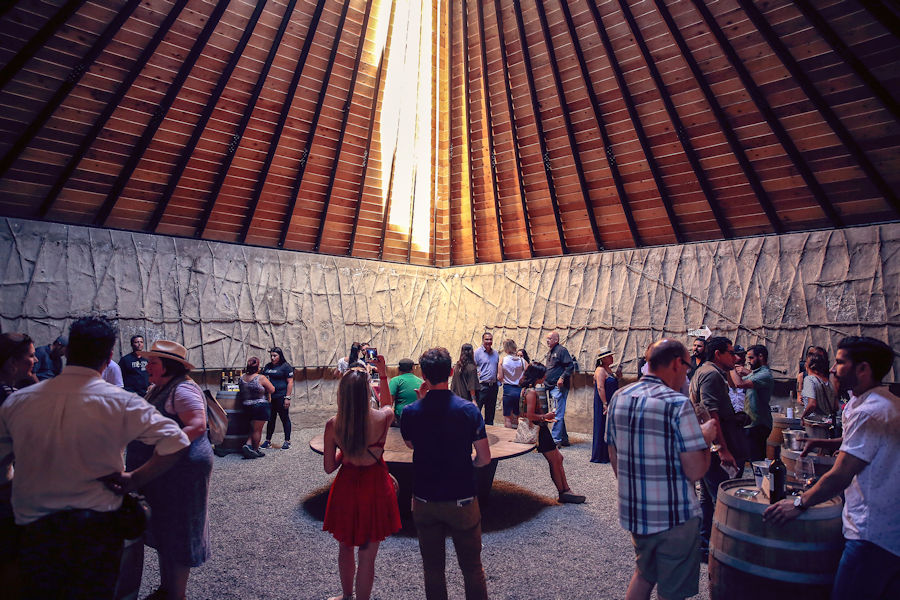 Paralelo produces three wines ~ two reds and a Sauvignon Blanc, created by Paralelo's resident enologist Daniel Lonnberg. Daniel, originally from Chile, will take you on a winery tour and tasting. As he explains the project and how the wine came to be, you can tell this is his passion. The reds, paired as 'Ensemble', are created in identical blends of Barbera, Cabernet Sauvignon, Merlot, Petite Sirah and Zinfandel. 'Arenal' comes from a sandy soil, creating a lighter and fruitier wine. 'Colina' was grown in clay, bringing out its complexity and spice.
Paralelo wines are hailed by wine lovers and experts for their creativity and superb quality. Visitors are powerfully moved by the experience of entering its modernist edifice, this eco-friendly amalgam of clay, earth, recycled materials and found objects. Paralelo represents a passionate unconditional love of Baja California - its terrain, weather, soil, living creatures, and even the cast-off manmade objects sometimes found upon its land.
Article by Andrea Morton
Photography by Cintia Soto