Take a Ride with a La Misión Cowgirl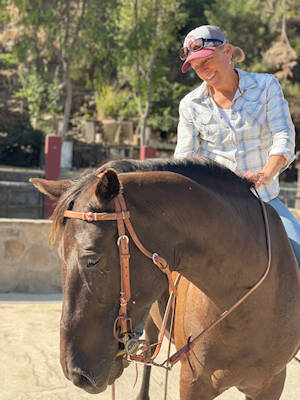 There are many hidden stories about how we have been bitten by the Baja bug and suddenly our lives are completely different. For others it is a long slow burn that brings awareness to the surface. Erin Dunigan has this story. It starts in a rather unlikely place; a LA tech industry in the 90s. She was asking herself how she could contribute to the world. She was successful in the budding world of technology and made very good money. Yet, the deeper desire to find meaning was still there. Because of the challenges of the work, she had so little time for anything else. Even though it seemed an odd idea at the time, she knew she would be quitting her lucrative job and going to seminary as the possible answer to her question of how her work would be meaningful. As she tells this story, "The seminary wasn't a surprise to me, but it sure was to other people. It wasn't that I wanted to be a pastor for a church in the traditional sense. But I felt when I was done with seminary, I'd know what was next." Laughing she continued, "I completed my studies, and I still didn't know what I wanted to do."
As a child in the 70s Erin grew up visiting her grandmother, Ann Dunigan, in La Misión. After Ann passed Erin began to come frequently to enjoy the beautiful stillness. One morning in the quiet hills overlooking the Pacific, Erin was still musing about what to do next. "I suddenly had an inspirational thought! I had my grandmother's home. It had an ocean view. It was rent free and I asked myself, 'What do you mean you don't know what's next?!" She laughs out loud as she looks back on what had been a struggle to find the next step. "Once I moved and was living here full time, I had conversations with local workers. When they learned I was a Dunigan they'd ask if I was related to Ann Dunigan. "Yes, she was my abuela." These grown men told her stories about her grandmother's kindnesses. As little boys, they remembered how Ann would give them work to clean up the patio for a quarter. One confessed he would go ask for a cup of water, knowing Ann would give him a cookie too. One little guy was given shoes so he didn't have to go to school barefoot. Erin realized she was stepping into the real legacy of her abuela.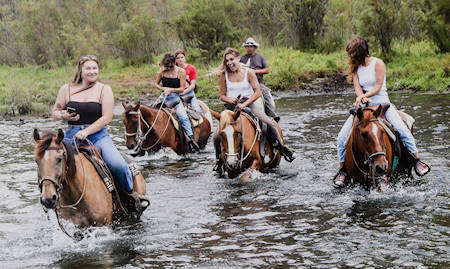 During these first years Erin was working as a professional photographer for the seminary being sent out on photo shoots all over the world. It was a unique and rewarding experience, and she had Ann's home to return to in the quiet of La Misión. The best of both worlds. I asked her, "So how does a LA professional in technology become a La Misión cowgirl?" Thoughtfully, Erin proceeded with her story, "Well, that was also kind of an accident. I was walking my dog in the estuary one day and came across a horse that was tied up. She was clearly starving." Luna was her name and she was at death's door. Erin pulled handfuls of grass to feed her and looked into her eyes. Luna's big brown eyes looked back. Erin was hooked. The owners were found and a price was arrived at. The long healing process began. Erin grins, "All of a sudden, I had a horse! I was actually terrified of riding horses, because I saw someone kicked when I was a kid, and it was ugly with bloody broken bones. I had only ridden once or twice." But for nearly 6 months Erin cared for Luna, pouring love into her every day. "I didn't know what the heck I was doing. But one day, cowboy style, I just got on to ride her. I was still really afraid and Luna was kinda spooky due to her past. Sometimes it was overwhelming and I wanted to cry." In order to face her fear, Erin set about learning all she could through books and workshops. She thought she needed to learn technique, but she found through a teacher, an old cowboy, that it was actually the connection with the horse that was most important. This elder, Mark Rashid, was gentle yet strong. This dichotomy was a new lesson. How can you be gentle and strong at the same time? Erin found this unusual combination was actually essential when working with horses, and it surely applies in relationship with people. "Luna rescued me as much as I rescued her. I gave her food and water; she gave me a life free of fear. Now we gallop down the beach while I'm turning around taking pictures for the other riders."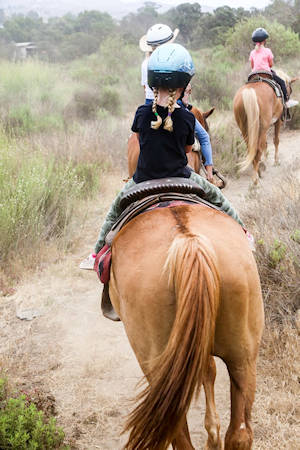 Erin teamed up with Horses by José; now a true wrangler herself she brings all her varied life experiences to caring for those who come to ride. She practices the wise advice from her teacher and applies the gentle strength as she instructs and introduces her riders to their steeds. Smiling she reveals, "When I take people out, it is usually the women who have a harder time of this, as they think if they give guidance to the horse, they are being mean."
"People will say what a crazy ride I've been on from pastor to horses, and I say no, not really. It is the same thing, but just looks different from the outside. I assumed I needed technique, what I found was a beautiful connection, and deepening relationships. When you find connection within it is a sweet spot in life and in horses." Without words, her care might go unnoticed by the rider, but she is present and aware of each rider's needs. "Sometimes people just come to ride a horse. Then there are others who come actually to find a true connection." She has watched José and his son Hector's method of matching horse and rider. "They really don't need to even ask questions about the level of riding ability. They read the energy of the people and match them with their horses in that way. It is uncanny how spot on the selection usually is. Often the rider will say, this horse really is like me." Galloping on a beautiful beach, or a quiet ride through the estuary, there is a sense of freedom and peace.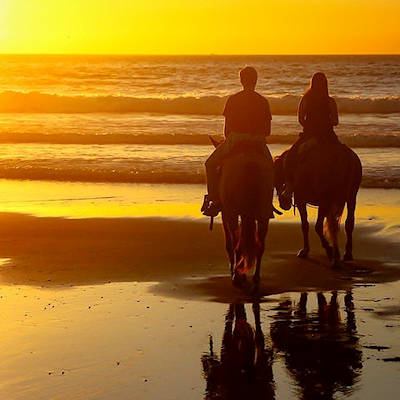 We finished up the interview so Erin could take an afternoon ride to the beach. She shared her insight, "I feel like as I was asking those questions so many years ago was a realization. The feeling was clearly about the fact I was not really contributing. I don't feel like I have 'arrived' at some destination called making the world a better place, but I do feel like that decision over two decades ago put me and my life on a different trajectory. So, rather than a place that I feel I have arrived, it is more like charting a course in a certain direction. My life might look like a sort of wandering. But, as Tolkien wrote, "All who wander are not lost."
Martina's email: mteomaya(at)gmail.com