Muelle 3 - From Sea to Table
By Erin Dunigan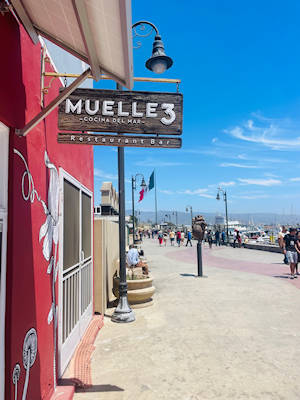 If you are looking for a delicious and authentic seafood meal in Ensenada, Muelle 3 is the place to go. The food is fresh, the flavors are simple, and the service is excellent. You won't be disappointed!
Located on the north end of the malecon (boardwalk), the restaurant bar has some of the freshest and best seafood you will encounter in a region known for its seafood.
Owner David Martinez explains it this way: "We don't have anything canned or frozen, we don't use microwaves, we don't have storage - we buy almost everything every day so that the product is one or two days old for everything we use."
A small 30 seat restaurant tucked into the farthest north end of the malecón area, Muelle 3 is a big hit with locals and visitors alike. With dishes such as Sashimi Mixto, Calamar Frito and Camarones Ajo there is something for every seafood lover. Working with a small kitchen makes it easy for them to focus on the freshest ingredients and flavors. "We don't use a lot of sauces or creams that bury the real flavors - we want the fresh flavors to really shine."
Muelle 3 has traditional seafood dishes such as Ostiones and Ceviche as well as original creations like Pulpo Huitlacoche and Almohaditas de Camaron.
"Our chef has been with us from the beginning and is very creative and knowledgeable about the ingredients - whenever I have a new idea I bring it to him and say, "What do you think of this?" The focus is in a simplicity that is possible from the best ingredients.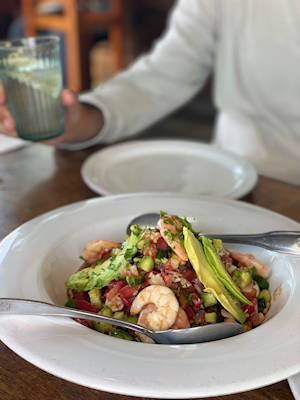 With such a great ambiance and amazing food it might be surprising to know that owner David Martinez, who studied in both Mexico City and France, actually studied to be a musician.
"During my music studies for six years in Mexico City and seven years in France I worked in restaurants to support myself," he explains. "But my formal training is as a musician." (Though his full time gig is with the restaurant, if you are lucky you can still catch musician David Martinez at local events and parties playing piano solo or with fellow musicians.)
After studying abroad for 13 years the time came for him to return from Europe to his native Ensenada. David's brother Javi, co-owner of Manzanilla restaurant, had been a restaurant owner for a long time. He and Manzanilla co-owner Benito Molina invited David to create a partnership with them in order to open Muelle 3. The year was 2007 and David was just back from France, with many ideas of what might contribute to a great dining experience.
After three years in business together, in 2010 the three partners decided to each focus on their own restaurant, brother Javi with Boules, Benito with Manzanilla, and David to continue with Muelle 3.
"It was never my plan to open a restaurant," laughs David as he recounts the story sitting at one of the small outdoor tables along the boardwalk. From the table you can see the fishing boats bringing in their catch - it doesn't get much fresher than that.
"It wasn't my plan, but it was something that life put me into," he continues. "I went away to study music and I came back and opened a restaurant!"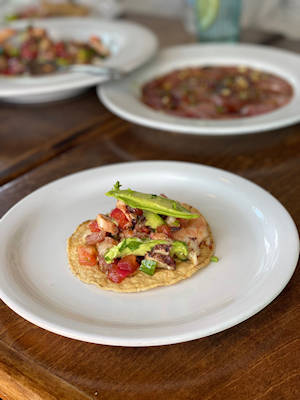 "My influence is more from France - especially the concept of service." He continued the story while at the same time attending to his staff's questions and helping to accommodate families hoping for a table. "In Mexico we are more used to waiters wearing uniforms and being more serious, less in touch with the customers - even though there are sometimes 10 waiters to a table!" He learned in France that less can actually be more - especially when it comes to service.
"I learned that you can have a great experience with fewer staff, but who are actually in touch with the customers and are paying attention to their needs without over serving," he said.
Part of this concept works because the staff at Muelle 3 are more like a family than coworkers. We spend lots of hours together, often more than we do with our own families, so we think of it as our home.
"I am very lucky because the people who work with me have been with me for a long time," he said. "The secret is trying to be equal in most things."
When his daughter was born 8 years ago David realized that working on Sundays was not going to work well for the family. So, he made the bold decision to close on Sundays and Mondays. "If I don't work Sundays then the people who work for me don't work Sundays either."
It's a decision that has paid off. They are now open Tuesday thru Saturday and require advanced reservations if you want to secure one of the 6 indoor or 4 outdoor tables.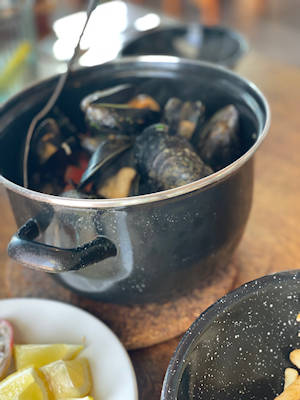 One of the other keys to success has been the serving style - all food is served family style. "When we started I didn't like the idea of wasting food," said David. Restaurants can be notorious for throwing out literally tons of food that goes uneaten on individual plates.
All the plates are designed to be shared. "What we have seen is that serving family style all the plates end up empty - if someone doesn't like one thing, someone else will eat it."
That is not the case for food served on individual plates. "If you serve on individual plates you always have someone who is going to leave something on their plate but no one else is going to reach over and eat it," David explained.
That is another thing that David is proud about his restaurant - not only are the ingredients freshly stocked daily, but there is almost zero waste.
Being a restaurant owner wasn't the path that David set out upon, but bringing the diversity of his experiences to the table (literally!) has created something delicious in its own right. Long-time friend, fellow musician and frequent diner Matt Lamkin puts it this way: "With his experiences in Mexico City and France David brings a richness to the Muelle 3 experience that you wouldn't necessarily learn in culinary school. It is a uniqueness and a bit of an international feel with an ambiance that is uncommon around here and that has been cultivated by the various experiences that he brings with him."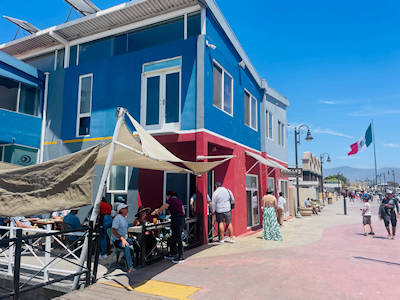 For David and his staff, every day brings a different challenge. "I always say to people - this kind of business is very fun and interesting because every day is different." It doesn't mean it is going to be easy, but it does mean that it never gets boring. "I always meet new people and love meeting them - it is fun and enjoyable work."
Muelle 3 is open 12-6pm Tuesdays thru Saturdays. Reservations are recommended.
Erin Dunigan is a writer, gardener, and horsewoman who has always felt at home in Baja California. She spent her childhood traveling back and forth between her native Southern California and her grandmother's home in La Mision. For the past 14 years she has made Baja her home.