The Sky Ranches of Baja California
By David Kier

They come from a time when airplanes were more frequently used to vacation in Baja, and when bad roads brought good people, just not very many of them! Private and charter planes once frequented Baja's coastal and mountain resorts. Four guest ranches with airstrips served these flying tourists. Only two are still in business and only one still has an airstrip.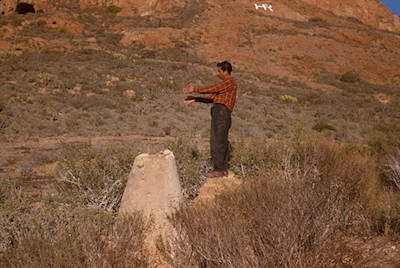 Hamilton Ranch was located not far from the coast, between Colonia Guerrero and Mission Santo Domingo. It was actually next to the first site of the 1775 mission, which moved a couple miles east in 1798. Hamilton Ranch was a very popular get-away, frequented by celebrities. A 1927 Automobile Club Report said, "We found the meals excellent, and eleven rooms in a new adobe house furnished with Simmons beds, fine mattresses and brand new bedding, several baths and flush toilets are included in this new building. It surely is a surprise to many to find these modern conveniences in this out of the way place."
The landing strip at the Hamilton Ranch was nearly 2,000 feet long. Many a 'Hollywood-type' would go there to get away from the cameras of the Paparazzi. Hunting and fishing were popular, as well as at the other sky ranches. Another famous guest at the Hamilton Ranch was mystery author and Perry Mason creator, Erle Stanley Gardner.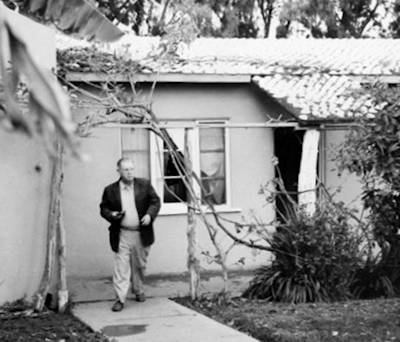 Gardner wrote many pages about of the Hamilton Ranch in his 1948 Baja travel adventure book 'The Land of Shorter Shadows' and mentioned that Mr. and Mrs. Parodi had recently purchased the ranch from Hattie Hamilton. When Gardner and his five friends arrived, the place was undergoing repairs and being upgraded. Mrs. Parodi was alone but refused offers of help with anything. She fed the party dinner and made up six beds for the night. She also lit the kerosene water heater for them all to enjoy a hot shower.
Gardner returned to the Hamilton Ranch but would from then on referred to Mrs. Parodi as "Margo." In Gardner's 1967 'Off the Beaten Track in Baja' we read that Margo had some health issues but was fully recovered and accommodating a few tourists. The last Auto Club reference to Hamilton Ranch being open was in 1975. Owner Margo Parodi Ceseña, herself a former Hollywood starlet, died in 1977. When visited in 2017, I found the wooden ranch complex was mostly gone, marked by its many shade trees just west of the big red rock hillside. The hillside's white-painted 'HR' still marking the spot.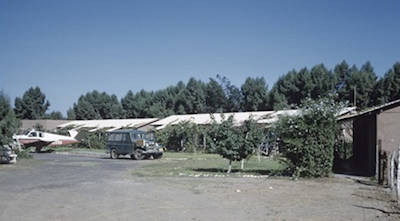 Santa María Sky Ranch was located just south of San Quintín and just west of the old main road, about where it made the first curve after so many miles going straight. Today, that location is one mile northeast from the Hotel Misión Santa María.
The first mention of the Sky Ranch is in the 1958 Lower California Guidebook: "Hotel accommodations, landing strip for light planes. Bass fishing in a fresh-water pond." The 1959 Auto Club guide describes features that include twelve rooms, three meals a day, hunting, fishing, and clamming. A nearly 4,000 foot-long runway made it easy for any plane to land.
My own 1966 memory at Santa María Sky Ranch was of the motel cabins that were covered with clam shells. A photo of Erle Stanley Gardner outside his clam-topped cabin, taken when bad weather prevented his charter plane from flying any further.
In Arnold Senterfitt's 1969 Airports of Baja California, it was listed as being closed, but expected to reopen. The 1969 Auto Club guide also mentions the ranch was recently closed. Each following year's publication that mentioned the sky ranch, it remained closed. In 2004, the Los Pinos tomato growers flattened the buildings to make room for more greenhouses.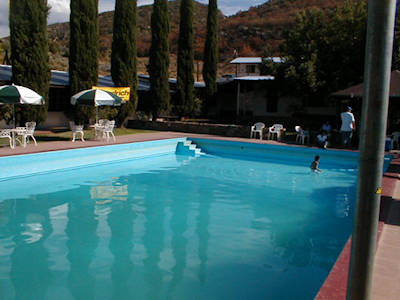 Mike's Sky Rancho is perhaps the best-known 'sky ranch' in Baja California even though it has not had an airstrip open for pilots for over 30 years. The 'Sky' now is more about the elevation of 4,000 feet above sea level.
The first mention of Mike's Sky Rancho is in Arnold Senterfitt's 1967 Airports of Baja California. The original 3,500 foot long airstrip was several miles south, requiring one to circle the ranch or radio for a ride. The 1969 Auto Club guide described the new guest ranch rather glowingly: "Set along the Rio San Rafael in the Sierra San Pedro Mártir… Several modernly furnished rooms, built around a large swimming pool, comfortably accommodate up to 33 guests… the cost includes swimming and horseback riding."
My first time staying at Mike's was in 1972. Pre-running of the Mexican (Baja) 1000 was happening. The race started in Mexicali for the first time. Many racers passed through Mike's to get to Camalu and on south to La Paz. In those days, racers chose their route (as long as they stopped at each checkpoint). SCORE's very first race in Baja was in July of 1974. Mike's Sky Rancho was made a major pitting location with a new, mandatory one hour down-time for racers. Owner Mike Leon became very involved with off-road racing from then on, even racing himself. Baja races frequently made Mike's a checkpoint ever since. The mandatory down-time idea was discontinued, however.
A few years later, Mike built a better airplane runway, six miles north. To prevent its use by the drug cartel, the military told Mike he needed to provide 24-hour security. With so few fly-in customers, the 4,000 foot strip was ditched in 1990. Mike Leon Jr. has operated the ranch since his father's passing. The place remains an extremely popular resort with the off-road crowd.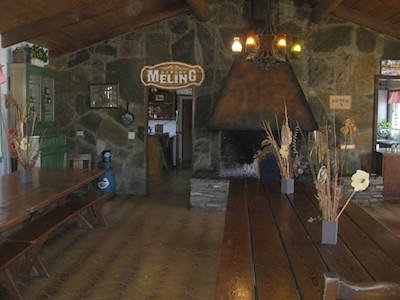 Rancho Meling (Rancho San José) is perhaps the longest operating guest ranch in Baja. Originally known as Rancho San José, Harry Johnson bought the ranch for his family who often rested there when traveling between their Colonet area ranch of San Antonio del Mar and the Socorro gold fields. The mine site was beyond and higher up than Rancho San José. Harry Johnson worked the Socorro gold fields for many years.
Harry Johnson's daughter, Aida, married Salve Meling. They bought the ranch from her mother in 1924. This working ranch evolved to accommodate travelers at some point. The 1951 Auto Club guide describes the ranch as having a four-unit-motel and airstrip, with meals available. By 1975, the ranch expanded to 11 rooms, plus a swimming pool.
When visited in 2000, the future was in doubt and the guest ranch was closed while ownership issues were being settled. Happily, everything came together and this beautiful place with its 2,900 foot runway, is open for business by air or by land. Most now arrive using the paved road to Rancho Meling and on to the Sierra San Pedro Mártir park and observatories.
About David
David Kier is a veteran Baja traveler, author of 'Baja California - Land Of Missions' and co-author of 'Old Missions of the Californias'. Visit the Old Missions website.