Catching the Baja Bug
By David Kier
Each of us has a story on how we were infected with this wonderful bug that compels us to return year after year to the magnificent peninsula of Baja California. Be it for fishing, surfing, off-road-racing, snorkeling, photography, camping, Cabo, tacos, whatever it was, Baja sure has it all!
My Baja story began with my dad's love of fishing. He had flown to Loreto on Ed Tabor's DC-3 and stayed at the Flying Sportsmen Lodge. Dad was also fan of Ray Cannon's articles in the Western Outdoor News. He was no stranger to what was down in Baja, as far as fishing goes. My dad was a dentist and one of his patients had told him stories of wonderful beaches and superb surf fishing. There was a catch, you would need to buy a Jeep to get to these beaches. Fortunately, it was 1965 and Jeep had recently introduced the Wagoneer, making travel with one's family far more comfortable. My dad bought one, right away!
This patient (Andy Anderson) happened to be a former co-worker and travel friend of Howard Gulick, who was the author of the very popular Lower California Guidebook. Andy had traveled with Howard on many trips. Prior to our big trip to the tip of Baja, in 1966, my dad and I went to Andy's home to meet and talk to Howard Gulick, who happened to be visiting Andy, for some last-minute advice. Even though I was only 8 ½, I remembered that meeting and how Mr. Gulick signed our copy of his book. He told us about camping locations, including Agua Dulce spring and El Requesón beach. He had also mentioned a new shortcut near the south end of Concepción Bay, taking off several miles of the drive to Comondú (which was on the main road to La Paz, then).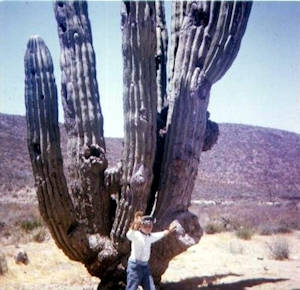 We had previously traveled to Gonzaga Bay and Agua de Chale (now called Nuevo Mazatlan) before the grand trip to Cabo San Lucas from Tijuana. Once we found some great fishing locations my parents were excited by the potential for exploration and four-wheeling. They were hooked on Baja, too!
When I turned sixteen and was given the family VW dune buggy to drive, I was on my way to the first of many trips to Baja. I recorded my trip details to write future road guides. My first guide was in 1973, covering the new highway, still under construction. The next was in 1974, for the completed highway and side trips. You never can get enough road details for a Baja trip. Soon, my newest road guide will be available from Baja Bound.
I am just not sure which of the many activities hooked me on Baja the most. Wast it the incredible fishing, the magnificent beaches, driving on the most challenging roads in North America, camping under the stars, seeing ancient rock art, the fossils, geology, … what? I do like making maps and Baja is like a perfect landscape to create maps of. Here are a few examples beginning at age 10 in 1967, where we liked to camp and explore.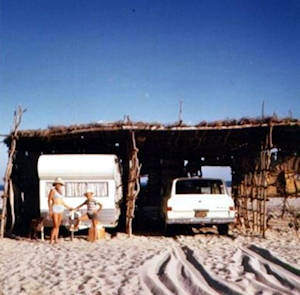 The most recent maps I made were made to accompany the road logs in the Baja Bound Road Guide.
In 2021, Benchmark Maps invited me to review their future Atlas maps and make any corrections/ additions/ suggestions I could find since I had recently traveled throughout the peninsula researching for the Baja Bound Interactive Map and Road Guide. That was a huge honor for me. The Atlas has been a huge success, too. Did you get yours?
Yes, the Baja bug bit me hard! As Mike McMahan said in his book, "Good Lord, please...please don't make me turn in my sleeping bag too soon. I just gotta go, one more time..."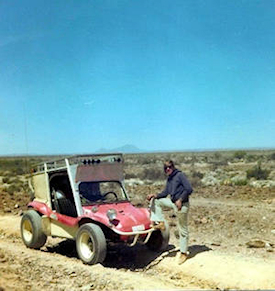 My first Baja vehicle, this modified Myers Manx. This drive to El Mármol was in 1975 (I was 17).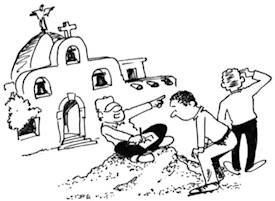 'David K' pointing the way! Created by Jerry Meloche for Bernie Swaim's 2004 book, 'Bouncing Around Baja'.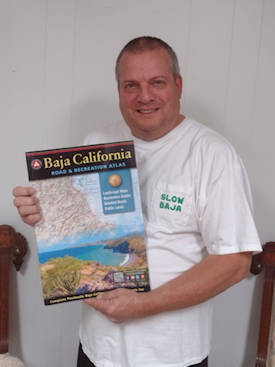 Much older now, a life of Baja adventures and fun. Helping to edit the 2021 Benchmark Baja California Road & Recreation Atlas was a huge honor.