The Albertino Barite Mine, near Camalu
By David Kier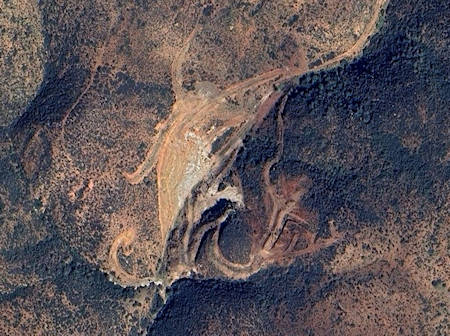 I remember seeing this side trip to Albertino as a younger person when thumbing through the Auto Club guide. I was always looking for places to explore that piqued my interest. Old mines and odd minerals seemed interesting, yet I have still not gone. Baja California is a land of so many interesting places to see that it wasn't a surprise when Albertino was forgotten while I was traveling and camping or busy mapping popular roads for the new Baja Bound Road Guide or visiting the dozens of missions and historical location throughout the peninsula.
If you look at the Auto Club's 1951 to 1966 guides, traveling south of Ensenada, see a paragraph about a 3.5 mile side trip to 'Albertino', an abandoned barite mine. The 1968 and newer guides no longer mentioned the place. I wonder what attracted the Club's mapping staff to take the short drive away from the coast. Going opposite of where most club members would be interested in, for fishing, clamming, swimming, and surfing. Did they see trucks full of ore driving down from the foothills? Did the owners of nearby Rancho Ibarra tell the staff about it? My curiosity knows no bounds when it comes to Baja California!

Barite is a rock that is quite heavy relative to most other rocks of the same size. It is used for oil drilling. Friends and I had discussed barite back when some of us went to the La Olvidada barite mine, east of El Mármol and El Volcán. That was in 2011, when I grabbed a chunk and found it as heavy as you would imagine gold to be!
The original road to the mine is at today's Km. 150.4. However, a newer and better looking road is just north, at Km. 149.8 and across Highway One from the signed road, going west to the Punta San Jacinto shipwreck (a mile away on this road is the Grandpa's Place).
Both new and original routes going east to Albertino merge shortly after the climb into the hills begins, 2.0 miles east on the new route or 1.8 miles on the original route. There is a fork at Mile 3.2 (new route), keep right, now heading south. Rancho Las Minitas (appears abandoned in 2021 satellite view) is at Mile 3.5 (new route). Here is where you fork to the right and now go west 0.2 mi. down a little ravine to the mining area at Mile 3.7.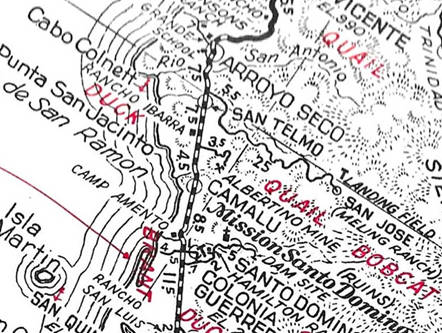 The old guide said it was 3.5 miles to the mine, and if using the original route, that figure is spot-on. Today's maps may show Las Minitas and a mine symbol. Those do appear on the 2021 Benchmark Baja Atlas, 2009 Baja Almanac/ and INEGI (government) topographic maps. Of interest, an older INEGI map labels this as a copper mine.
Another 'copper' mine, on older INEGI maps, is near the Mile 3.2 fork but there are no obvious indications of mining on satellite imagery. I know that I will be taking a side trip next time I am heading towards Camalu and beyond, how about you? Is Baja California as fascinating to you as it is to me? Is that why you are always Baja Bound?
About David
David Kier is a veteran Baja traveler, author of 'Baja California - Land Of Missions' and co-author of 'Old Missions of the Californias'. Visit the Old Missions website.