Baja Fishing Report - Summer 2023
By Tom Gatch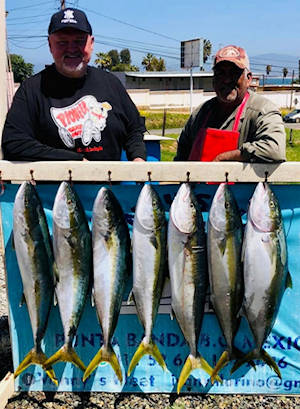 Although the final weeks of spring saw thick 'May gray' conditions along the Pacific coast, which ranged from southern California through northern Baja, the warming sun eventually prevailed. Summer has arrived.
However, even though late spring might have been cloudy and overcast, it belied the fact that the fishing action was already beginning to take off with increasing catches of prized gamefish. Most specifically, huge bluefin tuna that were bending the rods of grateful anglers who were fishing a mere 12 to 15 miles offshore from Ensenada.
ENSENADA
Ever since the middle of the 20th century, Ensenada has been a major player in the history of Baja California sportfishing. Once referred to as the "Yellowtail Capital of the World", anglers would visit Ensenada from locations far and wide to take advantage of the fantastic fishing for yellowtail that was fueled by massive schools of incoming baitfish; primarily anchovies and sardines.
Back in those days, it was possible for anglers to each catch a dozen or more school-sized forktails in the 10 to 17-pound class in a single day of fishing. Alas, however, over-fishing and greedy commercial interests that began netting large quantities of the incoming baitfish to be made into fish meal and fertilizer took their toll and, for several decades, the yellowtail fishing off Ensenada declined to a point where it became only a shadow of what it had once been.
Fortunately, with each passing year we are seeing the stocks of both migrating school-sized yellowtail and our own local home guard fish, which tend to be larger and stronger, beginning to exponentially increase in number. Even though it is relatively early in the season, we are already seeing bigger and better catches being logged in.
Located at the southern end of Bahia de Todos Santos, Vonny's Fleet has been operating for decades and has panga skippers that are particularly adept at finding and catching big yellowtail from the waters surrounding the tip of the Punta Banda peninsula. And, when fishing in this area, there is also the possibility of returning with a healthy catch of tasty rockfish and lingcod, which can occasionally weigh 7-pounds or more.
CEDROS ISLAND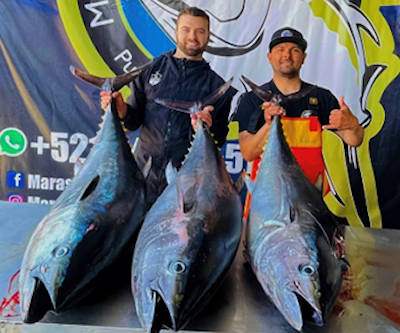 After a banner year in 2022, Cedros Outdoor Adventures has just launched into their 2023 fishing season. Even after the first week, it is looking like this El Niño year may have some surprises in store as the months progress and a greater number of exotic species from more southerly waters make their way north.
This year, they have expanded their panga fleet with another boat in addition to spiffing up their Wi-Fi system to assure that guests will enjoy reliable coverage in all rooms.
CABO SAN LUCAS
At the southern tip of the peninsula, Pisces Sportfishing in Cabo San Lucas reports, "After the marlin bite ramped up over the past few weeks, we were seeing 3 to 4 marlin released per boat. However, last week anglers were lucky to release one or two marlin, with a total of only 20 billfish caught and released for the entire fleet. We did have some wind pick up that may have affected conditions, although they were not extreme wind speeds, they did reach about 15 knots max."
They added, "Dorado catches were good, although the number of fish caught was not massive, most of the fish averaged between 20 and 30-pounds each. We have also been some yellowfin tuna action. Nothing huge yet, but the fish are still ranging between10 to 30-pounds.
Other fish taken by our visiting anglers included jack crevalle, sierra mackerel, grouper, ladyfish, triggerfish, yellowtail, roosterfish and a few more miscellaneous species.
SAN JOSE DEL CABO
Just around the corner in San Jose del Cabo, Eric Bricston at Gordo Banks Pangas reported good fishing for a wide variety of fish.
Bricston elaborated, "Moving into the new month a few weeks ago, we saw variable transitional weather patterns, northern winds remained predominant, but shifting breezes from the south were present and unpredictable.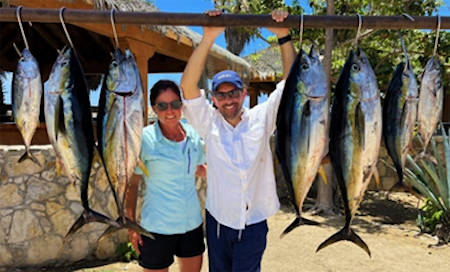 We have been waiting for patterns to stabilize some, but so far that has not happened, strong currents, increased ocean swells, particularly large over last weekend. Mostly clear sunny skies, some scattered light clouds at times, highs of about 85 degrees, ideal conditions to visit now, before the reel summer heat kicks in next month."
"We have not seen the large schools of mullet move along beaches yet. In the marina channel there are caballito and jurelito being netted, no source for sardinas at this time.
Most fishing action was taking place towards La Fortuna, Iman and San Luis, also straight offshore towards the 1150 spot. This is also the time of year for trolling close along the beach stretches while targeting roosterfish, jacks and other species, which so far has been a bit hit and miss, though we have seen a handful of very nice roosterfish released.
We saw more quality sized dorado moving in, impressive 50 lb. bull dorado were landed, no huge numbers, but decent chances now of catching a couple of trophy sized fish, scattered throughout the offshore grounds now, no particular hotspot.
Offshore the striped marlin action continued to be very good, most activity was found 10 to 20 miles out, stripers were seen free jumping and tailing on the surface and would readily strike dropped back baits, as well as lures. Sizes were nice, up to 140-pounds.
Yellowfin tuna were encountered further offshore traveling with porpoise, hit or miss and most of the time 15 to 25 miles offshore, not a normal deal for a morning charter, unless you make advance arrangements and pay fuel surcharges. Sizes for these tuna were up to 40-pounds. In recent days, larger than previous week. The yellowfin tuna just weren't wanting to bite on the nearby Iman or San Luis Banks, very sporadic and finicky, better chance now among the porpoise."
Bricston concluded by saying, "Only a few wahoo strikes have been reported, most incidentally while bottom fishing. However, they are now in the area and you never know with wahoo; they have their own personality as when they feel in the mood to strike.
The action off the bottom has been sporadic, due to north winds and swift currents. We saw mixed success on species such as red snapper, yellow snapper, amberjack leopard grouper and bonito. Best chances were early in the day, after that action slowed and most charters would search out surface action.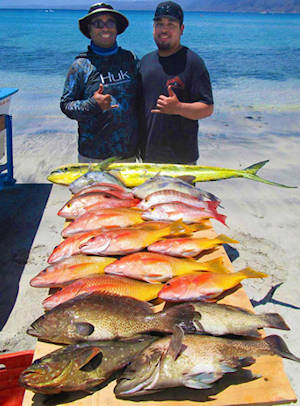 LA PAZ
Up the Cortez coast a bit, Jonathan Roldan at Tailhunter International in La Paz offers, "Let's just start by saying that the fishing still is not up to where it should be at this time of year. However, compared to what it's been like for the past few months, it's been a zillion-times better!
"Here's the deal. Just like the winter which was harsh down here, we continued with chilly weather, strong winds, cloudy overturned water and a chillier-than-normal ocean. That meant really scratch fishing pretty much all of April and May when we should have been getting bit pretty nicely.
"Well, this past week the sun got warmer. The winds gave us a break. The ocean turned bluer. The rough current settled down. And not surprisingly it made all the difference. If you just look at all the photos or compare them to the previous reports, anyone could tell our fishing was markedly improved.
"No doubt there's still cooler waters down below the surface which produced cold-water species like yellowtail, rainbow runners, amberjack, several species of pargo, sierra, cabrilla (some huge ones!) plus the usual bonito and jack crevalle.
"However, with the warmer water, we got more pompano, palometa (trevally), the larger roosterfish, but also the much-desired warm-water pelagic species like some wahoo; our first few marlin of the season; and finally some dorado!
"In fact, one day there was a dead whale near Cerralvo Island. According to one of our anglers, there were "hundreds" of dorado everywhere flashing through the waters and as many as 20 pangas were out there with everyone completely bent and dorado flying everywhere.
"Everyone nailed limits of 10-pound class schoolie-sized dorado. Then, as the week went on, the dorado got bigger with more 20-30 pound fish in the counts!
"Then, there were the wahoo. We knew they were there, but they sure were reluctant to bite. Well, they finally came to the party. One day we had 5 back to the beach and another 4-5 lost! Some of these wahoo were conservatively estimated 50-60 pound fish or larger. One day, we even had football-sized tuna show up as well.
"Additionally, with the bigger ladyfish baits finally swimming along the shallows, not surprisingly the larger roosterfish in the 40-70 pound class also started biting. We've been waiting for several weeks! But, even without them, there were good numbers of 5-15 pound roosters to have fun. If the weather continues to improve, I expect the fishing will also improve."
Roldan concluded his report by saying, "Additionally, the unusual fish arrivals continued! A few weeks ago, we got rare totuava in the counts. They are now protected and illegal to keep. As a result, they were all released, but those fish are usually found way up 1000 miles north in the Sea of Cortez and I've never seen a totuava down here in my life."
MIDRIFF ISLANDS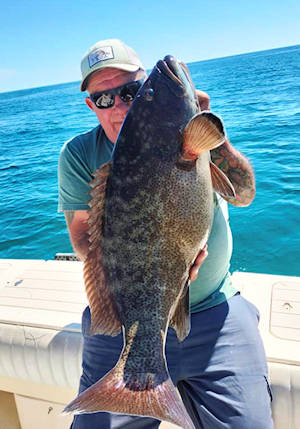 Capt. Juan Cook, normally out of Bahia San Quintin, was on his seasonal foray over the peninsula to fish the Midriff Island region of the Sea of Cortez between Bahia Gonzaga and Bahia de Los Angeles recently.
This year he took several clients out to visit areas like the Golden Reef and other small island in the region. The groups were consistently rewarded with big yellowtail and a variety of chunky grouper and cabrilla that were hooked closer to the bottom.
However, Cook concluded by cautioning, "We should always limit our take of leopard grouper and similar species that are bulging because they are full of eggs. We must practice what we preach about 'catch and release' with these fish so that we can maintain a healthy fishery. The ultimate negative consequences of loading up on pregnant gamefish are obvious."
As you can tell, the summer fishing action around the entire Baja California peninsula is red hot right now, and will likely only get better over the next few months. Now is the time to head south to catch a few big fish while that iron is hot!