Baja Fishing Report - Fall 2021
By Tom Gatch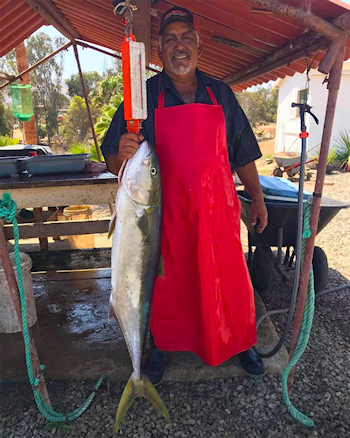 Since the rich waters surrounding the peninsula have received only a fraction of the fishing pressure that is normal in any given year, it has provided slow-growing inshore species an opportunity for them to rebound, and provide even better fishing during the months to come.
The summer fishing along the northern Baja coast has been particularly good for yellowtail, with most of the fish tipping the scales at 17 to 30 pounds or more. There has also been good bottom action, with a sizable number of chunky red rock cod showing up in fish counts from Ensenada to just south of Bahia San Quintin.
From the southern end of Bahia de Todos Santos in Punta Banda, Vonny's Fleet Sportfishing reports that the end of summer in their region was marked by some unusually good catches of quality grade yellowtail in the 28 to 30 pound class, along with the occasional showing of white seabass weighing between 12 to 17 pounds.
As usual, there has been no shortage of tasty rockfish in much deeper water that are quite eager to inhale chunks of squid or cut anchovy, providing the anglers that caught them with a scrumptious fish taco dinner.
Just a little further down the Pacific coast, the panga fleet at Castro's Fishing Place in Ejido Erendira has been loading up the coolers with a wide variety of bottom species, which has included red rock cod, lingcod, California sheephead, ocean whitefish, johnny bass, along with a bevy of miscellaneous rockfish in the Sebastes family.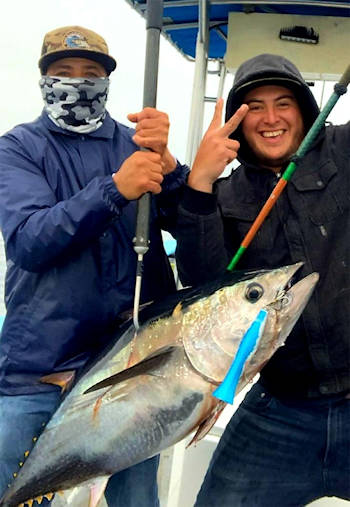 Down in Bahia San Quintin, anglers are still catching a good mix of yellowtail, bonito, and a few barracuda inshore. The deep water spots are dependably offering up a healthy assortment of reds and lings, however, most anglers are still aggressively fishing the surface in the hope of nailing a big yellowtail or white seabass. Not that many weeks ago, the Parker cruisers at K&M Sportfishing were still finding an active bite on yellowfin tuna offshore.
Situated just off Baja's central Pacific coast, Cedros Outdoor Adventures just reopened the fishing season at Isla Cedros on August 1st, although it was a bit later than usual due to lingering COVID concerns. Nonetheless, anglers are now enthusiastically returning to the island to try and make up for lost time.
Recently, Kengi Nakagawa, who was a member of a party of 12 anglers, enjoyed a stellar fishing adventure over the four days that they were on Cedros Island. Nakagawa said that most of his group from central-northern California were visiting the Island for the first time, and most of them flew home with limits of fish.
However, Nakagawa, who is a seasoned saltwater angler, admitted that he was initially apprehensive when they arrived on Cedros going into a full moon. He reported that the group realized that they had nothing to worry about when they ended up taking 32 yellowtail up to 24-pounds on their first day out.
Nakagawa concluded his report by saying that he and fellow anglers, Dan Mansir and Bobby Seigfried, did extremely well during their trip, with excellent catches of yellowtail, calico bass, and California sheephead. Manser and Seigfried also cashed in big time with a couple of nice black sea bass.
From Gordo Banks Pangas in Los Cabos at the southern tip of the peninsula, Eric Bricston reports, "The main action now for local fleets has been found from the Iman to San Luis Banks; boats have scouted out the Gordo Banks with nothing much being found; a lot of skipjack and a couple of 25 to 30 lb. class home guard yellowtail. Drift fishing with strips of squid was the best bet for hooking into a nice yellowfin tuna, a handful were also hooked while slow trolling live baits such as chihuil. Sardinas were available in limited quantities from near the marina entrance and off of Palmilla Point."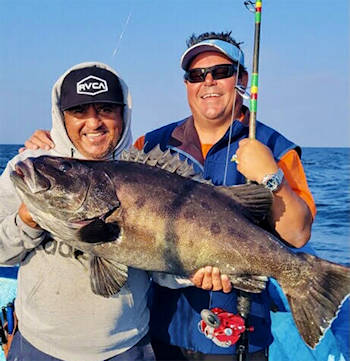 Bricston added, "The tuna have been very finicky; at times showing on the surface, and sometimes not at all. Chumming with sardinas seemed to help at times, but the majority of fish hooked were on the strips of squid. Most days the best chances were early in the day, fish sizes ranged from 50 to 150 lb. Anglers were doing well to land one of these yellowfin, though chances for multiple fish are there. Moving further back away from the full moon now, if currents slack some, water temperature cools slightly, all of these factors could trigger better action on any given day."
"On these same grounds, a few dogtooth snapper were landed as well weighing up to 45 pounds, along with other snapper species, pargo, bonito, and of course, triggerfish. The strong current was not helping bottom action, and not much at all going along close to the shore now."
Bricston concluded by saying, "We were only seeing a few dorado here or there and most of these being small juvenile fish, the exception was a handful of dorado we saw over 10 lb. No wahoo in recent days, but heard of some being hooked north of San Luis, as water temperature soon begins to cool off this should help increase odds of eventually finding some wahoo."
"Billfish are also lurking around these same fishing grounds. This week we saw sailfish, as well as striped, blue and black marlin. They haven't been there in any significant numbers, but many of the blues were over 300 pounds, and the blacks were over 400. This is the season when the odds of being able to land an offshore grand slam are at their greatest!"
Checking in from La Paz, Jonathan Roldan at Tailhunter International reports, "With the fall season now upon us, things are shaping up to be very busy, and probably will be though the next several months."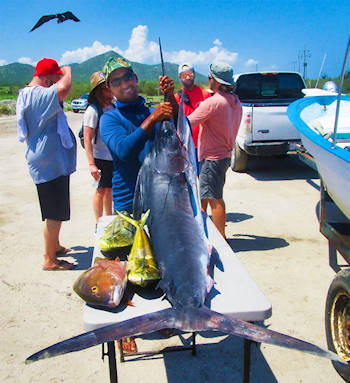 "Usually, after a big storm like Hurricane Olaf that hit us a few weeks ago, it takes a little while for the waters to get back in shape for fishing. This one turned out to be a Category 2 storm, with up to 15 inches of rain in 20 hours and gusts of wind up to 150 mph. That kind of storm generally churns up the water, and there's a lot of mud and debris runoff into the ocean."
However, the water conditions and fishing bounced back faster than we expected. It was not quite as good as before the hurricane, but thankfully did come back so that at least anglers got into some action and everyone had fish to put in the boats and/or bring home."
"Each day after Olaf departed, it seems like it got a little better, especially for dorado. Although 90% of the catch has been made up of fish weighing about 10 pounds, if you find the right spot catching a dorado up to 20, or even 30 pounds, is not uncommon. Quite a few of those fish are getting lost, but that's all part of the fun.
"Thankfully, both of our fleets have also run into a lot of other species that have wanted to bite. You name it, fat cabrilla, jack crevalle, and some toad-sized bonito have been providing lots of action, along with pargo, snapper and even some sierra, pompano, palometas and amberjack."
Actually, it is very unusual to catch sierra and amberjack at this time of year. Those are both cooler water fish that we usually don't start seeing until just before wintertime. And, surprisingly, we still have roosterfish around, which is quite late in the season."
Roldan concluded his report by saying, "You can have fun all day fishing with light tackle along the beaches and rocky areas while catching 2 to10 pound fish. But there are still some legit 30 to 50 pound fish cruising in the same areas as well."
Up the Cortez in Bahia de Los Ángeles, Capt. Juan Cook, who generally covers the region of Bahia San Quintin, took a few friends over to L.A. Bay to cash in on some of the big, home-guard yellowtail that have been on the chew recently.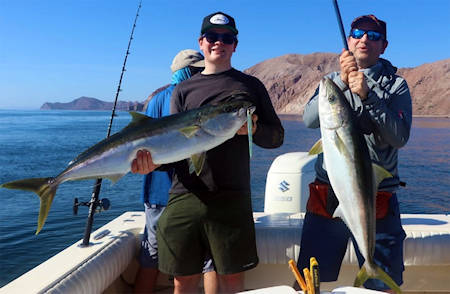 Capt. Cook offered, "We went out to fish Bahia Las Animas in the morning and the water and weather conditions were nice, but the wind picked up later in the afternoon. Since it was getting rougher, we decided to fish with jigs only. It turned out that bait wasn't really necessary, and we cleaned up on the big jurel."
Cook finished off by saying, "We used Prohunter Rankaru stick baits and 230gm Syclops lures to take all of our fish. Combined with our Prohunter Safari short jigging rods, they turned out to be the winning combination."
The fact of the matter is, no matter whether you are north, south, east, or west on the Baja peninsula, you are bound to end up somewhere that the fish are biting. Now is the best time to head south and take advantage of it before the winter weather arrives.