Bobby Van Wormer's Legacy
By Greg Niemann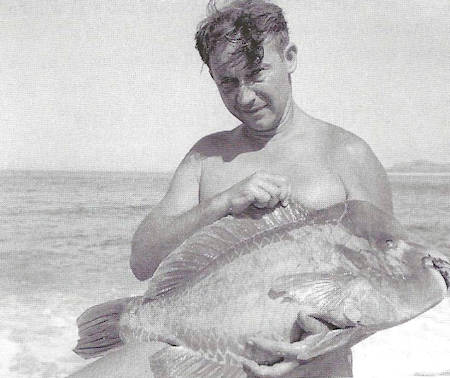 Bobby Van Wormer Sr., a Baja icon in the East Cape region, left a legacy in the developing of several popular sportfishing resorts. Along with Palmas de Cortez in the heart of the village of Los Barriles, Van Wormer also established the Hotel Playa del Sol next door, and the Punta Colorada a few miles away.
Today the popular Van Wormer Resorts continue to be run by his family, and is the most visible fishing enterprise on Baja's East Cape. With over 50 boats, ranging from 23' to 25' fiberglass super pangas to 28' to 32' super cruisers, the Vavn Wormer fleet has become the largest sportfishing fleet in Mexico.
Today the family also runs the Van Wormer Real Estate and Development company which has been involved in property and development in Baja California Sur.
Bobby told me back in 1999 that he was originally lured to the area by his brother Frank Van Wormer who had moved there during the 1950s with Herb Tansey who was developing the Rancho Buena Vista. Frank kept regaling Bobby with the attractiveness of the East Cape.
Lockheed aircraft worker Bobby said he finally relented, and the week after Christmas, 1956, he went to Baja to see what it was all about. He said those five days over the New Year's holiday, 1957, changed his life.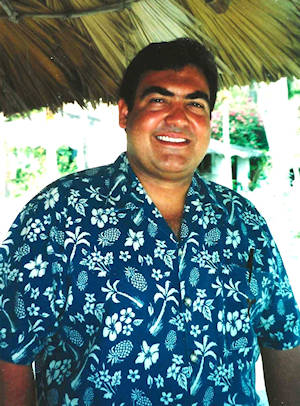 He explained: "I like to dive and came up with a mess of lobster. I thought, well there's one good thing about this place," Van Wormer recalled. "Then I went fishing and caught some nice cabrilla and sierra. Okay, great fishing, two things. I went dove hunting with equal success. Three. Then I looked up and down and saw nothing but unspoiled beaches for miles and realized at least four things make this a paradise. I knew then that this is where I belong."
He went back to California and Lockheed but his heart was already in Baja. In May 1957 he got away for two weeks and went right back to the East Cape where he found himself helping Tansey at the Buena Vista. Somehow those two weeks stretched into a two-and-a-half-month sojourn. The 32-year-old Missouri native reluctantly went back to California to work where he was admonished by his sister, Dorothy, to be more responsible. But responsibility lay in the mind of the individual. Thus when Tansey visited Van Wormer to offer employment in Baja, Bobby decided that being a resort employee in Baja was responsibility enough.
Moving from California, Van Wormer even shipped his 21-foot outboard cruiser from Long Beach to La Paz in kit form and rebuilt it back down in Baja. Van Wormer worked for Tansey and became his assistant until money got tight and he laid himself off.
During that brief period in 1959 he helped John Mitre who was preparing to open the new Hotel Bahia de Palmas in Los Barriles with his partner George Escudero.
After Herb Tansey was killed in a plane crash, Tansey's widow called upon Bobby to return to the Rancho Buena Vista as manager. She then sold the Rancho Buena Vista and the new owner, Col. Eugene Walters, hired Van Wormer to continue as Buena Vista manager, a job he did with enthusiasm and devotion until 1966.
In 1965, Van Wormer married Rosa Maria "Cha Cha" Ruiz who lived in the nearby village of Los Barriles. The Ruiz family had owned the Los Barriles land where Mitre and Escudero had built the Hotel Bahia de Palmas.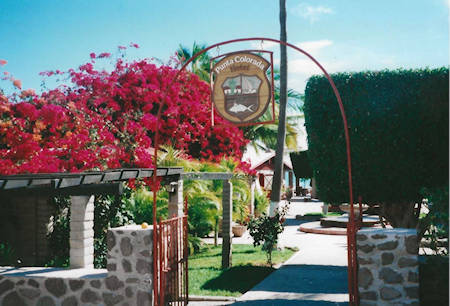 Opening the Hotel Punta Colorada
In 1966, Bobby and Cha Cha Van Wormer wanted their own place so they opened the Hotel Punta Colorada on a point just a few miles south of Los Barriles (about 90 miles south of the BCS capital La Paz). This time Bob brought his brother Frank down to help him build the resort.
Bob supervised the fishing and skin diving and Cha Cha supervised what was reported by early guests as one of Baja's best kitchens.
The Hotel Punta Colorada was an immediate success and was shortly billed as the "Roosterfish Capital of the World." It opened with six rooms and two boats and had expanded to 31 rooms and 15 boats before it eventually closed.
The Punta Colorada oasis was captivating, sitting on a solitary point in a profusion of magenta bougainvillea, neatly trimmed laurel trees and a myriad of palms. The indoor-outdoor bar featured photos of large fish and good times. Behind the hotel is a hard-packed 3200-foot airfield and in front, the sandy beach and the deep blue Sea of Cortez.
Hotel Palmas de Cortez
In 1973, Bobby and Cha Cha made a big jump and took over the Hotel Bahia de Palmas in town from Mitre and Escudero. The original hotel had opened in 1959 with just two palapas, one containing three guest rooms while the other was the dining room, bar and kitchen. The Van Wormers renamed it the Hotel Palmas de Cortez, and set about creating their idyllic resort.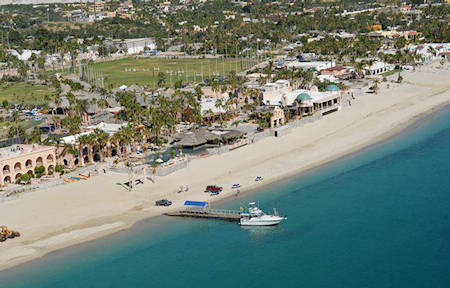 The Hotel Palmas de Cortez is right in the village of Los Barriles and now features over 50 air-conditioned rooms, plus suites and condos. The native-stone buildings, replete with tile, hammocks and thatched roofs blend gracefully with the tropical gardens and winding paths.
It is billed as a natural paradise with modern conveniences and has a spectacular seaside restaurant. Three meals a day are included in the room prices. Along with a large gift shop, there are complete workout facilities, a swimming pool, tennis, racquetball, snorkeling and scuba diving. The Spa de Cortez offers a wide range of therapeutic and beauty-enhancing treatments.
There's a lot for the non-fisherman and it's surprising how many families have come to make former male bastions like the East Cape fishing resorts a full-package vacation getaway.
In 2015 a luxury tower was added to the Hotel Palmas de Cortez. The three-story building offers two one-bedroom luxury suites and two two-bedroom luxury suites as well as a three-bedroom Penthouse Suite, the only one of its kind in the East Cape area.
Hotel Playa del Sol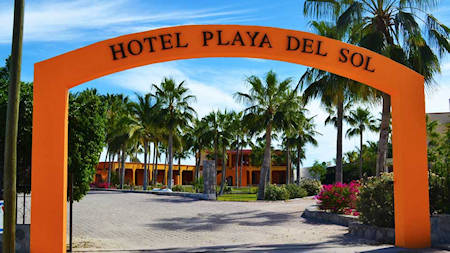 Their Hotel Playa del Sol began as a small hotel in Los Barriles originally named the Playa Hermosa. Just a five-minute walk to the north of the Hotel Palmas de Cortez, Bobby and Cha Cha also bought that and renamed it the Hotel Playa del Sol (Beach of the Sun).
Along with a private beach, there are 26 air-conditioned rooms, a swimming pool, and an indoor bar and entertainment center. It is often used for smaller groups or when the Palmas de Cortez is full. I stayed there one time and enjoyed my poolside room looking out over the Sea of Cortez. It too is on the 3-meal American plan as are most of the fishing resorts.
I took breakfast on the patio of the upstairs palapa with a commanding view of the tropical gardens surrounding the hotel and the fishing fleet heading off across the sea.
The Van Wormer Legacy
One of Bobby and Cha Cha's three sons, Bobby Van Wormer Jr., was appointed in 1999 to be the Director of Tourism for the State of Baja California Sur. "I don't mean to sound like a father bragging," Van Wormer told me, and then he continued to tell me how proud he really was.
Bobby said he was proud of all three of his boys, Bobby Jr., Eddie, and Carlos (Chucky), who were all involved in the business from early ages. They became an everyday part of the family business and still are. They continue to do everything, from managing, to promoting, to making sure the fishing operation runs smoothly.
The public face of the Van Wormers continued after Bobby got out of politics. In 2018 Chucky was elected as Diputado (Congressman) to BCS District 6, a position which is currently held by his nephew Eduardo "Yayo" Van Wormer who was elected in 2021.
Today Chucky also manages the marketing and sales of Villas de Cortez in Los Barriles for Van Wormer Real Estate and Development.
The family patriarch, the one who found responsibility on the beaches of Baja, Bobby Wormer Sr., passed away in December 2010.
Bobby Van Wormer originally relocated to the East Cape of Baja California Sur over a half-century ago because he found four things that made him realize he had found paradise. Of course, during his many years there he'd found thousands of other reasons to liken his place to paradise.
Interestingly, with his wife and three sons, he'd enjoyed an additional four things that continued to keep him enamored to the area, For many decades, sportfishing on the East Cape has enjoyed the legacy left by Bobby Van Wormer Sr.
Visit the Van Wormer Resorts website to learn more.
About Greg
Greg Niemann, a long-time Baja writer, is the author of Baja Fever, Baja Legends, Palm Springs Legends, Las Vegas Legends, and Big Brown: The Untold Story of UPS. Visit www.gregniemann.com.