Baja Jerky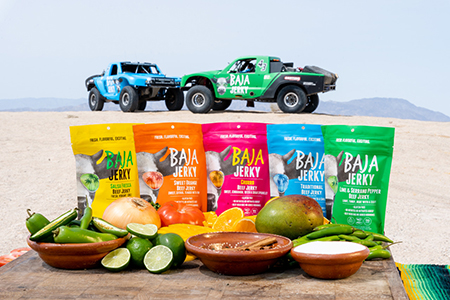 Whether it's devouring fresh mangos and street tacos, or fishing, biking, boating and exploring, Baja Jerky was inspired by Will Dryden's love for all things Baja. He spent several years working and living in Cabo San Lucas and had the opportunity to travel throughout the region. He fell in love with everything Baja has to offer and felt compelled to share this awe-inspiring peninsula and it's unique flavors, culture and activities. In 2019, Baja Jerky was born.
We caught up with Will to get a little more background on how the company came to be: "Baja Jerky started because we wanted to bring a high quality product into the marketplace that incorporated the amazing flavors of Baja. We brought in Michelin star awarded chef Brandon Rodgers to help curate the recipes and create a unique line of meat snacks unlike anything out there right now."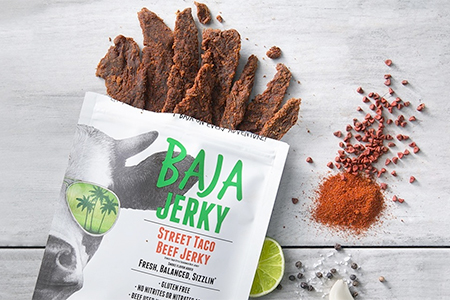 Their culinary efforts resulted in exotic Baja inspired flavors such as Salsa Fresca, Serrano Lime, Street Taco and Churro, along with more typical flavors like Sweet Orange, Crackin' Pepper and Traditional.
Aside from coming up with fresh and unique flavors, Will felt like it was also important to keep the jerky nutritious: "Because our product is geared towards an active market, we really focused on keeping it lower in both sugar and sodium than a lot of the other products out there." They also do not skimp on the quality of the beef either, using only premium cuts of meat that are sustainably raised, minimally processed and do not contain nitrates, nitrites, gluten, preservatives, or MSG.
Baja Jerky is also a firm believer in sharing their love for Baja and all of its activities. Baja Jerky is involved with off-road desert racing on both sides of the border. Baja Jerky races the SCORE series in the #43 Trophy Truck led by driver Larry Roeseler (aka Mr. Baja) and they also sponsor the Baja Bound Racing Team 308X and 408X pro class motorcycles.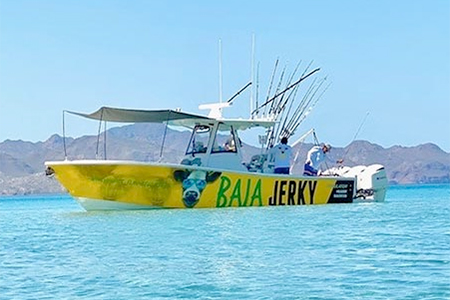 They also sponsor several surfers, skateboarders, snowboarders and adaptive athletes. Additionally, the aptly named "Salsa Fresca" Baja Jerky boat competes in Bisbee's Black and Blue fishing tournaments, which have been a staple on Mexico's Baja Peninsula for over 30 years.
From Baja to the backyard, Baja Jerky is made with the spirit of adventure!
¡Viva Baja Jerky!
To celebrate the new partnership between Baja Bound Insurance and Baja Jerky, they are offering our clients an exclusive discount for online orders through June 12th! Use the code Bajabound21 at checkout to get a 21% discount on your order! Visit The Baja Jerky website to get your order in!