Finding the Simple Life Again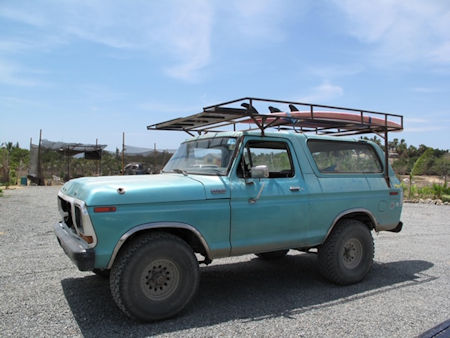 I've come to the conclusion that a quarterly tech break is necessary for all of humanity to continue to keep up with the pace of life as we know it. And, I have the grand design for anyone just needing a shut down and experience a second of the simple life...and this is a bliss trip that comes stuffed with street food, inspiring local vendors, long stretches of highway, new playlists, and a billion stars in the sky and waves in the ocean. One word describes this journey: Baja.
The minute the US/Mexico border gets crossed, all technology is thrown into a bag in the back seat and the dreamy voice of Carlos Puebla whispers out of the speakers; reception is spotty anyhow, so you might as well embrace it. The bowels of Mexico start to come alive as you realize that deadlines no longer exist, email has suddenly become obsolete and there is only one thing to focus on, a long stretch of crumbly road that leads due south. Highway 1.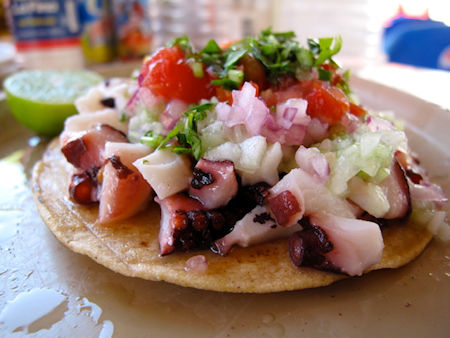 The first thing I set my sights on is tracking down some sort of ceviche stand. Baja, being flanked by such gorgeous bodies of water, makes her ripe for a seafood bounty down every dirt road and there is no taste in the world like the first bite of just caught fish. Cooked with nothing but fresh lime juice (I know, seems crazy!), the powerful pull of raw seafood firmed up with acid feels like Moby Dick come alive. This is the simplest, most rooted meal in all of Mexico, one that brings families together on the weekend for long spells of beach fun, cold cervezas and popsicles and hours of snacking. To make ceviche, it's as simple as gathering up the freshest fish you can find, dicing it up, covering it with fresh squeezed lime juice and letting it chill a few hours. After that, behold a miracle. Mix in slivers of red onion, bits of cucumber, chunks of jalapeno, fresh tomato and a little clam juice if you want to get really sassy. Topped with fresh cilantro and a side of crackers, mayo, and hot sauce this is a meal made for the foodie gods. If you are anywhere along the coast, it does not matter where you see the sign ceviche – restaurant, palapa, back of a pickup truck, tin shed, pull cart, random cooler - you are bound to experience something only the water lords can provide. And if you are lucky, you will happen upon pulpo ceviche, the even more substantial joy that is octopus on a tostada. This is like eating the steak of the sea and you might never go back to normal seafood. Where to find amazing ceviche in Baja? Everywhere!!!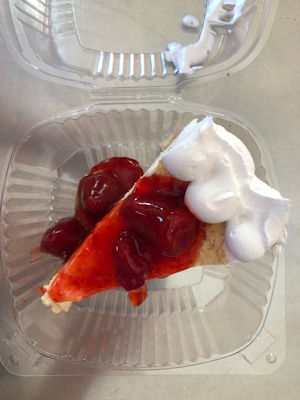 The next thing you will get on your plate at any given moment is the all mighty tortilla. Yet another Mexican mainstay, this perfect creation is the base line for every single meal one might think of devouring in Mexico. Eggs are wrapped in them, chicken is baked in them, fish is fried in them, shrimp is stuffed in them, beef is covering them, salsas are baths for them. No matter if it is corn (maize) or flour (harina), the seduction of seeing a freshly slapped tortilla going over an open fire rivals the birth of a first child or winning the mega lotto. We've all been there: the mouth waters instantly and the eyes glaze over immediately as heat hits the pale little disc and bubbles start to form. Visions of melting butter and fire splashed salsas rule the mind and demolishing a stack of them before a meal overflowing with them is even served is a basic rite of passage. And, when in Mexico, this happens daily. These wee marvels can be shaped and melded easily into gorditas, empanadas, huaraches, taquitos, tacos, burritos, enchiladas, chilaquiles, nachos, tostadas, quesadillas – basically an unlimited variety of ways to stretch a few pennies of hard costs into meals that wreak havoc on your memories. The best breakfast maybe in all of Mexico, that my boyfriend and I still talk about to this day are the huevos rancheros in El Triunfo at a no-name restaurant on the north side of the road on the west side of town. Granny at the ready, kneading and pressing the mounds into perfect circles, her fire constantly blazing, with the ranchero sauce made to order and the eggs freshly laid. Perfection beyond.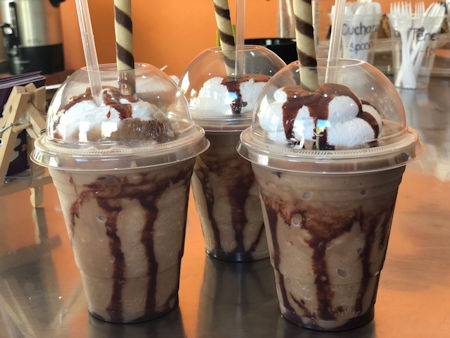 And, the final thing that should be experienced on the road, especially down the sandy bits, is the bliss that is nieve, basically Mexican ice cream (nieve translates to snow). Savoring mouthfuls of this crystal filled concoction is a dust covered road warriors dream come true and usually the sign pointing you in the right direction is scribbled out in sharpie on a torn cardboard box. Do yourself a favor and just hit the brakes when you see this crossroads. Oddly enough, exotic flavors like elote (corn) avocado and cacao, mezcal or just plain ol' shrimp are freakishly addictive and should not be missed. They are the ancestral frozen bombs that make the world go 'round. Now, to luxe that up a step, you can hit the super cute dessert haven in Los Barriles, Sweet Gula, and order up the adventure park version of a mocha frappe. For less than $3, you get the most surprising slurpable beast of a drink that will keep you cranked – it's packed with chocolate in many forms, coffee, and whipped cream and will take your breath away with its sophistication after imbibing in nothing but street treats the whole of Highway 1. Add in the freshly made ice-cold strawberry cheesecake the gals whip up weekly and you just might have to get back on the technology front looking for ways to soothe the very full and very aching stomach. Maybe it was the chocolate cookie straw?!?