Baja Fishing Report - Summer 2015
By Tom Gatch
The yellowtail action is wide open along the northern Baja coast, with limit style fishing often being the rule more often than the exception. Photo: Vonny's Fleet Sportfishing
Our magical El Niño adventure continues at full speed as the Pacific coast of Baja California lights up with massive schools of bluefin tuna migrating up the line, which are now being followed by yellowfin tuna, big kelp paddy yellowtail and other summertime exotics. Veteran skippers are saying that these bluefin tuna constitute the largest influx of this species that they have seen in almost 30 years. If that were not enough, many of the fish are being taken as close as 5 to 7 miles out, which puts them within range of smaller craft that normally would not venture to the offshore banks where tuna are generally found.
Those working the inshore waters are also enjoying fantastic fishing for big yellowtail in the 17 to 25 pound class, with even a few larger mossbacks occasionally found in the mix. The area just south of Islas Coronados all the way down past Isla Cedros has been extremely productive for both yellowtail and quality grade calico bass, which are enthusiastically attacking plastics around the kelp beds.
The tuna bite is particularly good off Bahia San Quintin. Capt. Kelly Catian reports that that the bluefin action has been so frenzied that the decks of their Parker cruisers are often so littered with freshly landed tuna that it is difficult for his clients to find a place to walk. Similar conditions exist from Bahia Asuncion south to well past Punta Abreojos.
Bluefin tuna fishing is so good off of Bahia San Quintin that anglers are sometime finding it hard to navigate around the crowded deck. Photo: K&M Sportfishing
Down near the tip of the peninsula at Los Cabos, Capt. George Landrum at Fly Hooker Sportfishing reports, "The warm water is starting to bring in the bigger billfish to our area. We are seeing more and more blue marlin every week. Striped marlin seem to have concentrated just off the beach to 15 miles out on the Cortez side, and the blues have been scattered all over the Cortez side. Lures have been the ticket for the blue marlin, but the striped marlin have been liking live bait a bit better.
If you can locate the right porpoise pod, you could come away with a big yellowfin tuna weighing up to 200 pounds; or you could load up on footballs of 20 pounds or less. Some anglers returned with several tuna in the 60 to 90 pound class, while others came in with a single 8 pound fish; as always, it's 'right place at the right time'.
Inshore fishing has been great for Roosterfish if you can deal with a little bit of choppy water. They were found in good concentration on the Pacific side between the old lighthouse and the windmill. Slow trolled live mullet were the ticket here for fish to 60 pounds. Also available were some nice Pargo to 15 pounds, but the majority of them were 5-8 pounds."
Just around the corner in San Jose del Cabo, Eric Bricston at Gordo Banks Pangas says, ""Although there has been a decent mix of bottom species accounted for, including pargo, amberjack, cabrilla and a few dogtooth snapper up to 30 pounds, the roosterfish action has really picked up with a few anglers catching roosters up to 70 pounds.
Anglers on the East Cape are going ballistic as they land a greater array of billfish than usual for this time of year. Photo: Rancho Leonero
Dorado remain scarce, considering this is the time of year we should be seeing larger size do-do's moving into local waters. Only an occasional wahoo being talked about; only one 35 pound fish was landed back during our Father's Day Tournament out of La Playita.
There have been a few larger sized yellowfin tuna found traveling with porpoise further offshore, anywhere from 24 to 40 miles out, but not really a practical deal yet for panga charters. One yellowfin tuna of 183 lb. recently won the heavy fish honors, which was landed from a 40 ft. sportfisher fishing offshore." Bricston concluded by adding, "Even though the billfish action has tapered off a bit, we are expecting things to explode once our next influx of warm water arrives from further south."
Just north of San Jose del Cabo on the Sea of Cortez, the marlin are really on the chew! Just ask John Ireland at Rancho Leonero, "We have an abundance of marlin mixed with sailfish that are only 7 to 10 miles directly off Las Arenas. There is a temperature break with clean, blue water … lots and lots of flying fish. Ballyhoo, trolled lures and live bait are all working and we're seeing and hearing about multiple releases of blue marlin.
Most of the dorado are smaller fish that we are finding around the area of the lighthouse. These extremely fast-growing fish will be a lot bigger in a just a month or so, and perfect for light tackle and fly-rodders.
Inshore, we've got exactly what we've been waiting for...roosterfish to 60 pounds! The smaller pez gallo are along the beach, giving our saltwater fly-fishers a perfect shot at rooster glory, while the big boys are being caught a little farther out."
Capt. Mike Gravert, who runs Intimidator Sportfishing on the Sacramento Delta, shows off a nice mullet snapper taken near La Paz. Photo: Tailhunter International
Up the Cortez coast in Las Arenas and La Paz, Jonathan Roldan at Tailhunter International reports, "Usually, this time of year is when we see the most variety of fish. Not so this year off Las Arenas. Right now, I've been telling our anglers, 'it's go big or go home!' Other than some smaller bonito or rockfish, it's either big rooster fish, wahoo, or billfish. If you get a shot and miss it, you get skunked. That's it. Go home with a good story. And a lot of our anglers miss fish or they bust off. It's fishing; that's why these are bigger fish. However, if you happen to land one of these guys, then you're the hero.
We've had one of the most dynamic wahoo bites in memory so far this year. Epic. We have caught more wahoo in recent weeks than the last 10 years combined. But the past few weeks there have only been a few hooked and even fewer landed. Chalk it up to angler error? Hard-fighting fish? Changing conditions? I don't know. But, it's been great and I hope it's not done.
It's the nature of fishing and at Las Arenas right now, you get 1 or two shots. If you miss it, that's it. Fortunately, we have two fleets! Just for this reason so we can move our clients back and forth depending on conditions and the bite. Luckily, most of our clients are here for a few days so they have the ability to fish with both of our fleets!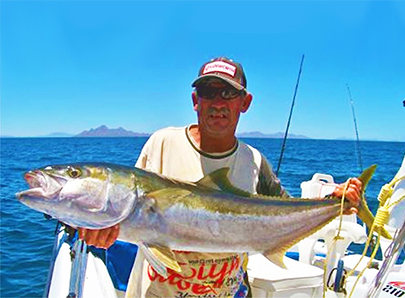 Quality yellowtail are just one of the species biting in the waters off Loreto. Photo: Loreto Sea & Land Eco Tours
Our La Paz action has been well…just that…ACTION! Dorado have been more active and there's schools of smaller to medium sized dorado now showing up. Limits or near limits of these smaller fish are not uncommon and we're just waiting for some of the larger fish to show up. We did get a few in the 20-30 pound range and larger fish lost.
Also, inshore, even this late in the season, pargo and cabrilla in the rocks and reefs have provided plenty of fun, action and frustration as the bigger ones bust folks off in the rocks."
Further north in Loreto, the big bull dorado have been few and far between around Coronado Island, but there are plenty of smaller ones between 6 and 10 pounds being taken in the area on live bait. Sardina are available at the local marina, but you can use a Sabiki rig further outside to catch a better grade of small mackerel that can be invaluable if you happen to run into a better grade of fish.
Those live mackerel will also come in handy when fishing the bottom near Punta Lobo, where baqueta grouper up to 50 pounds or more are inhaling them as soon as they pass in front of their noses. Big yellowtail can also be taken deep here using either live bait or bottom iron.
Some of the best yellowtail activity has been found at the 50 fathom spot on the north side of Carmen Island. However, it takes at least a half-pound of weight to get your bait down to where the fish are. When fishing live bait, a 40 pound test fluorocarbon leader will go a long way in helping you to catch more fish.
The waters off Loreto are also kicking out a few striped marlin. While many of these billfish are coming on live baits, a significant number of them are also being hooked on trolled tuna feathers and plastic skirted jet head lures.
The fact of the matter is, there is absolutely nowhere around the Baja peninsula right now where the fishing is not good; but it is up to you to actually pay a visit to take advantage of it. Buena suerte!